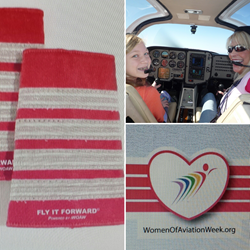 "Being at the controls of a plane is a metaphor for taking control of your life,"
WASHINGTON (PRWEB) March 03, 2018
MayCay Beeler, Adventurer-Aviatrix, Promotes Women Aviation
It was 53 years ago that the first woman, an American, flew solo around the world. Her name was Geraldine Mock.  Not too much in women in aviation has changed since then.
MayCay Beeler wants to change that—one aviatrix at a time. It's her way this pilot/ TV personality has of honoring and promoting Woman of Aviation Worldwide Week. 
"There are too few women in aviation," said Ms. Beeler who is also the author of a fascinating true crime book "Buccaneer, The Provocative Odyssey of Jack Reed."
She convinced her flying service at Greensboro, N.C. to hold a contest and two women were selected for free flights to promote women in aviation during the special week, Mar. 5-11.  
Ms. Beeler, who will take the two on their maiden flight, has as her mission to promote women in aviation with what she calls her "Diva Flight Experience."
 It is her signature program for helping women feel more confident whether it is in business or their everyday relationships. 
"To randomly meet a woman pilot you would have to introduce yourself to 5,000 women," said Ms. Beeler. "This figure has changed little over the years. It needs to change."
Traditionally, being a pilot was considered a boy's club. MayCay wasn't buying that either for herself or other women. 
"Being at the controls of a plane is a metaphor for taking control of your life," said MayCay who is an FAA qualified flight instructor. "The empowerment is contagious."
MayCay knows how to handle herself whether in a broadcast or print interview and has been a television personality in North Carolina.  
 
She's happy to answer any questions regarding "The Diva Flight Experience," her own interesting career in aviation, TV. 

What preparation does one need to take the Diva Flight Experience?
Does it cost an arm and a leg or is it reasonable?
How long does it take to become a pilot? 
And just why are there not more female pilots?
MayCay is happy to take any and all of your questions. 
Secure your interview with MayCay Beeler by contacting Olga Willard at olga.willard(at)allenmediastrategies(dot)com or calling (407) 927-7719. 
Women Of Aviation Worldwide Week | Powered by iWOAW | 8th ...
http://www.womenofaviationweek.org
8th global aviation awareness week for girls of all ages aims to foster gender balance in the air and space industry. Join us March 5-11, 2018.