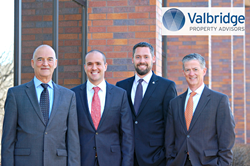 Daniel Kann and Jason Roos represent the future of Valbridge. They are among the highest-quality appraisal experts I've encountered. I'm proud of their success.
KANSAS CITY, Mo. (PRWEB) March 05, 2018
There's a new generation of leadership at Overland Park-based Valbridge Property Advisors (VPA), the nation's largest independent commercial real estate valuation firm. Valbridge President Laird Goldsborough announces the promotion of Daniel Kann and Jason Roos to managing directors. Together, they'll head up Valbridge's (formerly Shaner Appraisals) Overland Park office under the continued tutelage of Goldsborough and Bernie Shaner, founder and industry pioneer.
"Daniel and Jason represent the future of Valbridge. They are among the highest-quality appraisal experts I've encountered, and I'm proud of their success," Goldsborough said. "Of course, all of our journeys are ongoing; Bernie and I are still here. We take seriously our roles as mentors who continue to transfer knowledge that comes from our combined 70-plus years of experience."
Kann and Roos joined the firm in 2007. They will continue to consult with and learn from both Goldsborough and Shaner, who are still active in the Kansas City practice that serves four states: Kansas, Missouri, Nebraska and Iowa.
Shaner founded Shaner Appraisals 40 years ago on March 1, 1978. Goldsborough purchased the firm from Shaner in 2004. Under Goldsborough's leadership, Shaner Appraisals joined 42 other appraisal companies throughout the country in 2013 to form a new company, Valbridge Property Advisors. In March, Valbridge will celebrate its 5th anniversary. In this time, VPA has grown nationally from 58 to 70 offices and added 100 employees for a total of 700 staff. The number of appraisers with the esteemed Member Appraisal Institute (MAI) designation has increased from 150 to 200.
Locally, Goldsborough has doubled his staff and has enjoyed average double-digit growth since 2009. The company now employs 17 commercial real estate appraisal professionals, including six MAIs and 11 certified general appraisers, underscoring Goldsborough's commitment to professional development. In addition, the company's customer count is up more than 20% in the last five years and, most importantly, revenue per customer is up significantly as well.
Clients of Goldsborough's firm – and every other Valbridge office in the country – benefit from the best practices of a nationwide network of experts in the field. While each office operates independently, Valbridge acts as one company leveraging the knowledge of 45 entrepreneurs in 70 offices across the county to "build a better mousetrap," as Goldsborough puts it.
"Being part of a larger organization allows us to constantly improve the quality of our services and how we do our jobs," Goldsborough said. "By sharing best practices, we've standardized technology, marketing, training and hiring processes so that we consistently produce accurate, reliable, industry-leading results."
In addition to best practice sharing, VPA continues to push the boundaries of technology to ensure nationwide quality service. Datappraise, the company's proprietary national database for commercial real estate appraisers, is key to VPA's success. VPA purchased the software company, and Goldsborough – a 2014 Helzberg Entrepreneurial Mentoring Program graduate – initially served as chairman of the Datappraise board.
To further improve the quality and efficiency of their work, VPA also has developed:

a national database of property information that allows data pool analysis;
proprietary templates for dozens of property types to enable consistent output across the country and manage quality control;
job management systems that enable the firm to work on large, national portfolios of properties across multiple offices simultaneously.
In the pipeline are new business intelligence systems with natural language processing to accelerate completion of client deliverables.
ABOUT VALBRIDGE
Valbridge Property Advisors proudly serves the Kansas City market as well as the surrounding states of Missouri, Kansas, Nebraska and Iowa. The firm's appraisers provide independent property valuation and consulting services, including advising clients on real estate business and investment decisions such as buy-sell-hold and lease-own alternatives. Every Valbridge office is managed by a commercial appraiser who holds the MAI designation from the Appraisal Institute, which represents the highest level of experience in the valuation and evaluation of commercial, industrial, residential and other types of properties. VPA clients also benefit from the collective strength of Valbridge, the largest independent commercial real estate appraisal firm in the country. For more information, visit: https://www.valbridge.com/