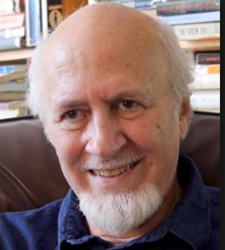 I have now launched the first electoral campaign against a senior AIPAC-affiliated member of Congress. If I beat him, it will show that concerted electoral challenges are the way to end the power of big money in America
Maryland (PRWEB) March 04, 2018
Dr. Jerome "Jerry" Segal, President of the Jewish Peace Lobby, who is running against Senator Ben Cardin in the June 26th Maryland Primary, today linked the struggle against America's two most powerful lobbies.
Segal in a statement to the press said,
"Maryland is the test case. Ben Cardin was viewed as invincible, and this despite his having taken positions widely unpopular in the Democratic Party, such as voting against the Iran nuclear deal and his protecting expanded Israeli settlement activity in the West Bank."
"Just as in 1989, I created The Jewish Peace Lobby as an alternative to AIPAC, I have now launched the first electoral campaign against a senior AIPAC -affiliated member of Congress. If I beat him, it will show that concerted electoral challenges are the way to end the power of big money in America. In particular, it will inspire hundreds of challenges against those members of Congress who do the bidding of the NRA."
Segal, who like Bernie Sanders, is a left-wing New Yorker in his seventies, came from a socialist family and has been active in progressive politics since the Viet Nam era. He came to Washington, fifteen years before Sanders, and worked on the Hill for four years, including two years on the House Budget Committee and then ten years in the US Agency for International Development.
Then in 1988, following his skirting the edge of the prohibition of US officials from having contact with the PLO, he resigned from government to take a position at the University of Maryland School of Public Policy.
With a doctorate in Philosophy and a strong background in economics, he laid out an alternative approach to socio-economic policy in his book: Graceful Simplicity: The Philosophy and Politics of the Alternative American Dream. Though more philosophical, in many ways this work anticipated the policies of both Senators Elizabeth Warren and Sanders.
Segal is expected to win the support of the Sanders voters in Maryland, which would give him a starting point of 34% of the Democratic electorate. He claims that closing that 16% gap is quite within reach since many voted for Hillary Clinton because she might have been the first woman President, because of Clinton's strong history of support from the black community, and because Clinton was viewed as more electable than Sanders.
When asked, "What happens if the NRA joins with AIPAC to defeat you in the June primary?" he responded, "Let them come. In the coming weeks, the Anti-AIPAC and the Anti-NRA forces will be coming together, and we will beat them both in Maryland."
Segal is currently (quietly) attending the AIPAC conference, and is available for interviews, at 301-675-3260.
You also can contact Allen Media Strategies at 4079277719 or 4076174918.
His website just went online at http://www.Segalforsenate.org