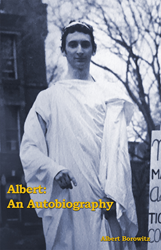 …a funny portrait of a cautious, smart, and somewhat hapless child in a world of strong personalities — Kirkus Reviews
CLEVELAND (PRWEB) April 09, 2018
For award winning author & essayist Albert Borowitz these past several years have all been about legacy.
Al Borowitz first approached ATBOSH Media Ltd. about publishing the collection essays "More Studies in Art and Literature" by his late wife Helen Osterman Borowitz, who passed away in 2012.
The 2014 publication was a sequel to her 1985 collection "The Impact of Art on French Literature: From De Scudery to Proust". Though he had long since retired from writing, working on Helen's book inspired Al to finish two lingering non-fiction monographs "Voices from the Reichstag Fire" & "An Eighteenth Century Tragedy: The Execution of a Portuguese Jew".
However, Al wasn't quite done yet. His murder mysteries starring Paul and Alice Prye "The Jack the Ripper Walking Tour Murders" & "This Clubs Frowns on Murder" had gone out of print and a third book in the series "The Beautiful Red Danube" had never been published. Additionally, another mystery "Death Play" has also gone unpublished.
"Al is very fond of Death Play," remarked publisher Jared Bendis. "Most of the time Al is the consummate historian — the intellectual, but when he talks about his works of fiction he looks like the cat that swallowed the canary. We originally released the books in hardcover, but now the Paul and Alice Prye books are available in paperback as a single volume trilogy. Death Play is in paperback now as well."
Much like his late wife Helen's work, Al was concerned that his essays would become hard to find. Several years earlier a collection of some of his essays had been published, but many of his most important essays had been left out. The new anthology "Crimes Gone By: Essays by Albert Borowitz" remedies this with an 800 page collection of essays that truly runs the gamut in crime history and literature.
The most magical work is the most unexpected of all of them — the newly published "Albert: An Autobiography".
"Publishing the memoirs has been an interesting adventure," says publisher and editor Jared Bendis. "It was shortly after we had finished publishing the monographs and anthologies that Al handed me this manila envelope containing poor photocopies of a typewritten document. 'What is this?' I asked him. 'The autobiography of my youth.' he replied. I looked at the pages a little confused. 'When did you write it?' I asked. 'I don't remember the exact date.' Then he smiled broadly. 'But it must have been a long time ago.'"
Al's son Peter laughed when he heard that the manuscript had been unearthed — again.
"Everyone in the family has read it. We think it must have been for a school assignment," Peter told publisher Jared Bendis. However, he invited him to see if it might have appeal to a wider audience.
"It's actually a great read, a real coming of age story," adds Bendis. "Plus, there are so many historical clues in the manuscript that most of the events can be tied to specific dates — the book ends in January of 1944. 74 years ago! With Al's permission I summarized the next 74 years of his life and added a complete bibliography — the beginning and end of the literary career of Albert Borowitz."
Kirkus gave the work some positive reviews "…a funny portrait of a cautious, smart, and somewhat hapless child in a world of strong personalities" & "…the book is clearly the work of a clever young writer, and it's no surprise that Borowitz grew into a successful author."
Albert: An Autobiography ISBN: 978-1626130845
The Paul and Alice Prye Mysteries ISBN: 978-1626130708
Crimes Gone by: Essays by Albert Borowitz ISBN: 978-1626130692
Available at Amazon, Barnes & Noble, Ingram.
E-book available for Kindle, Nook, and iBook.
ATBOSH Media Ltd. is an Agency Press in Cleveland, Ohio that publishes authors in almost any genre or subject. As an agency press, they also serve as the literary agent for both the book and its derivative works (such as television and film productions).
Larger publishing houses interested in publishing or distributing the work or production companies interested in optioning the work should contact Jared Bendis at jaredx2(at)gmail.com or call 216-288-6349 or visit the website ATBOSH.COM.