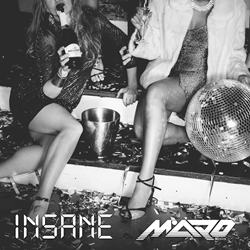 A lion's roar, a growling monster, heavy syncopation and a low-end swagger are enough to fuel this track for long-term commercial and underground viability. 'Boy you make me go crazy / let's do some shots / and get hazy!'
NEW YORK (PRWEB) March 09, 2018
Smoke. Hilton. Champagne. Maro Music has a gift for knowing how to produce music that gets people up and dancing. Try as one may, it's futile attempting to remain still. Maro Music's "Insane" (Addicted To Music) is out now.
"Insane" is a tight package, a rare commercial tune with bona fide dancefloor appeal. Able to cross over from radio airplay to peak-time at a music festival, "Insane" distills the essence of youthful insouciance into a wickedly playful aural romp. The track kicks-off with a staccato march that serves as a call-to-arms, followed quickly by a stirring percussive pattern that erupts like gunfire. An unexpectedly groovy, house-y harmonic synthesizer progression moves-in like a suavely dressed fashion model floating through a room full with gaping onlookers. Images of a mischievous-looking female uttering the repeated lyric are unshakeable, curls of hair falling teasingly over sultry, bedroom eyes. One imagines an extreme close-up of a woman's luscious lips intoning, "Boy you make me feel insane / let's smoke / Hilton / and Champagne." Wonky horns and dissonant, acid-tinged effects get expert sonic distortion as the momentum pulses forward. There's a lot happening on this track, yet it feels tight, balanced and never overdone. Nods to bass music and trap anchor "Insane" firmly in the arena of cool. Maro Music's production is exquisite and expertly done. A lion's roar, a growling monster, heavy syncopation and a low-end swagger are enough to fuel this track for long-term commercial and underground viability. "Boy you make me go crazy / let's do some shots / and get hazy!"
About Maro Music
Maro Music, (real name, Marek Walaszek) is a prolific Polish DJ, producer and sound engineer. For more than 15 years, he has DJ'd at major nightlife venues throughout Europe and Asia. As a music producer and sound engineer, Maro Music has worked with some of the biggest names in hip-hop, reggae and electronic music, including Agallah, Dominique Young Unique, Wu-Tang Clan, Sizzla, Redman, Bang La Decks, DJ Kazzanova and others. Sought after by the biggest international brands – Coca-Cola, Absolute Vodka and BMW among them – to create music for their advertising campaigns, Maro Music has proven his skill in the recording studio time and time again. His studio and record label, Addicted To Music, maintains a heavy schedule crafting original productions and doing mixing and mastering work for internationally recognized artists. The studio regularly produces Polish artists for Warner Brothers as well as for the bigger Polish record labels. Marek Walaszek is in high demand on the lecture circuit, widely sought by universities to speak about music production. He has served as a judge for the Audio Engineering Society's modern music and sound engineering contest at the annual AES conventions in New York City, Berlin, Hungary and Warsaw. Maro Music has released music as the producer for MXF alongside DJ Frodo. Maro Music's solo mixes have landed him consistently in the "top 5" charts on Mixcloud. In 2011, Walaszek founded Bettermaker, an award-winning, critically acclaimed manufacturer of professional-grade mixing and mastering hardware and software built for professional musicians and audio engineers. Bettermaker is used by a who's who of studio professionals, including the GRAMMY-winning and GRAMMY-nominated mix engineers, Dave Pensado, Jimmy Douglass, Luca Pretolesi and Greg Wells. Artists like KO:YU and DJ Kazzanova also use Bettermaker products to achieve a supreme quality of sound.
Maro Music is quickly making waves in the U.S. and his radio broadcasts and guest mixes have been heard on DASH Radio, Mix247EDM and the syndicated radio mixshow, "Earthquake Mix." Maro Music has been featured in informative media interviews on EDMProd, ThatDrop | Complex Media, EDMSauce, EDMTunes, Music Promotions UK and several other media outlets.
Listen to Maro Music's "Insane," here: https://addicted-to-music.lnk.to/Insane
For information on Maro Music (Marek Walaszek), Andrew Rayel, Paul Damixie, David Gravell, Mark Sixma, Fatum, MaRLo, NKRIOT, NativeOrigin303, Alex Ariete, Zander (of Traveler), and artists like Armin van Buuren, contact EMILY TAN Media Relations (U.S.), +1(917) 318-3758, EmilyEmilyTan@aol.com. Follow EMILY TAN Media Relations on Twitter @EmilyEmilyTan and LinkedIn http://www.linkedin.com/pub/emily-tan/4/342/70b.
# # #