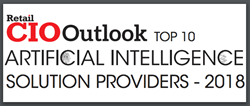 NEW YORK (PRWEB) March 08, 2018
Enhanced Retail Solutions, a leading provider of Software-as-a-Service (SaaS) retail analytic and demand planning solutions to suppliers, licensors and their retail trading partners, today announced Retail CIO Outlook Magazine designated the company as a Top 10 Artificial Intelligence Solutions Provider for 2018 for their expert system Retail Narrative.
Retail Narrative is a first in the Retail Analytic reporting and consulting field. As an AI-assisted system, it combs through door level retail sales and inventory data asking the questions seasoned analysts would to present the user the most actionable information via an interactive dashboard with a concise narrative explanation. The system is taught to ask questions of the data, know what is relevant and what is not, and then learn from that. Unlike traditional BI platforms, it does all the work and interpretation for the user, saving hours of labor and instantaneously finding opportunities to improve a retailer or wholesaler's sales, profit and inventory productivity. Read the full article here.
About Enhanced Retail Solutions LLC: 
Enhanced Retail Solutions is a software and consulting firm specializing in retail analysis and demand planning for manufacturers, licensors and their retail partners. ERS' state of the art software tools and consulting deliver critical data quickly, easily and cost effectively, adding over one hundred million dollars to their clients' bottom line. ERS' broad customer base includes industry leaders in the toy, electronics, consumer products, apparel, footwear, home textile, home décor, home improvement, housewares, jewelry and food industries. Headquartered in New York City, Enhanced Retail Solutions has offices in the Dallas, TX and development in the US, Cork, Ireland and Delhi, India. For more information, visit http://www.EnhancedRetailSolutions.com.
About Retail CIO Outlook Magazine: 
Retail CIO Outlook aims to be that platform which allows high level executives across industries to share their insights, which in turn will help the technology, business leaders and start-up ecosystem with analysis on information technology trends and provide a better understanding on the role that Retail play in achieving the business goals. For more information, visit: http://www.retailciooutlook.com.