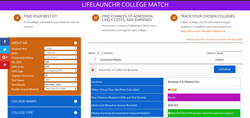 We want to help families become better informed about their college choices and apply to and enroll in institutions that best fit their circumstances and interests, so there's no guessing or settling.
SAN FRANCISCO (PRWEB) March 06, 2018
The college planning and admissions process is one of the most stressful experiences for students and their families, not simply because it's a consequential decision, but also because it's difficult to surface information most important and relevant to them. LifeLaunchr, a virtual, personalized college admissions coaching service, has launched a new free college matching tool that enables students and their parents and counselors to find the right fit based on their individual needs.
LifeLaunchr's college matching tool is the first to answer the questions at the top of every family's mind – chances of admission, likely cost, and potential future earnings – directly in the college search process. The tool allows students and parents to create individualized college lists for students based on more than 35 criteria – including future earnings, budget, academic programs, location, cultural environment, military support, and sports – in one easy-to-use tool. Families no longer have to track down all the information they want across the internet in various higher education reports and multiple government and organization websites. Once students have narrowed down a list of colleges and universities, they can sign up for LifeLaunchr to add them to their dashboard, and receive reminders and alerts for financial aid and application timelines that pertain to these institutions.
"We want to help families become better informed about their college choices and apply to and enroll in institutions that best fit their circumstances and interests, so there's no guessing or settling," said Venkates Swaminathan, CEO and founder of LifeLaunchr. "The current process is too opaque and overwhelming and it doesn't have to be. With our tool, families can easily take the first step in finding universities that they want to attend and can afford."
Finding the right college where each student can thrive is critical. Too often students apply to colleges based the institution's prestige rather than on factors that will have an impact on college completion and their future success, such as fit, affordability and return on investment.
The cost of college is rising faster than inflation and aid. The average student graduates with over $37,000 in debt. Families need to pursue higher education institutions that meet their budget and deliver value.
Research by the National Student Clearinghouse Research Center indicates that about 33 percent of all college students transfer before completing a degree, and nationally nearly 45% of all college-goers do not complete a degree within six years. Research shows that costs, academic stress, and cultural mismatch are among the top reasons for transfers and dropouts, so finding the right fit at the right cost can be critical.
The LifeLaunchr College Match tool is available now at lifelaunchr.com/premium-college-search/.
About LifeLaunchr
Lifelaunchr helps high school students and their families find the right fit for higher education based on their individual needs, and navigate the entire college admissions process without the stress. The first virtual platform for college planning and admissions coaching, LifeLaunchr offers a way for everyone to access expert help at price they can afford. The idea was born out of the founder's personal experience with his daughter as they attempted the confusing and complex process of getting into college. LifeLaunchr connects parents and students with a team of expert admissions counselors, insider tips, and planning tools to ensure they get personalized, proactive support and timely alerts and information to confidently make one of the most consequential decisions of their lives. More than 2,000 families have trusted LifeLaunchr, gaining admission into top universities in the U.S. and beyond, including MIT, Georgia Tech, UT-Austin, UCLA, Rice University, and the University of Toronto. Learn more at LifeLaunchr.com.