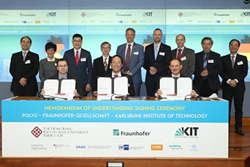 HONG KONG (PRWEB) March 05, 2018
The Hong Kong Polytechnic University (PolyU) joins forces with the Fraunhofer-Gesellschaft (Fraunhofer) and the Karlsruhe Institute of Technology (KIT), two leading research organisations in Germany, to drive collaborative applied research and technology development in the area of life sciences and engineering for the benefits of the global community.
A memorandum of understanding (MoU) signing ceremony was held on PolyU campus on 1 March. The agreement was signed by Ir Professor Ping-kong Alexander Wai, Vice President (Research Development) of PolyU; Dr Claus-Dieter Kroggel, Head of Central Office of Fraunhofer Group for Life Sciences and Dr Pavel Levkin, Head of Research Group of Biofunctional Materials of KIT. It was witnessed by Dr David Chung, Under Secretary for Innovation and Technology of The Government of Hong Kong Special Administrative Region; Mr Karsten Tietz, Deputy Consul-General of German Consulate General Hong Kong; Dr Siegbert Klee, Director of DAAD Information Centre Hong Kong & Macau, German Academic Exchange Service; Mr Wolfgang Ehmann, Executive Director of German Industry and Commerce Ltd., plus a number of senior leaders from PolyU.
Fraunhofer is the largest application-oriented research organisation in Europe, while KIT is one of the outstanding institutions in the world and the leading research university in Germany. With PolyU's long term commitment and track record in fostering multidisciplinary research and translating innovations into real life applications, this tripartite partnership will bring about more applied research and translational deliverables in the fields of life sciences and engineering.
The Under Secretary for Innovation and Technology, Dr David Chung, believed the collaboration would help translate research into innovative applications in life sciences and engineering for the greater benefits of the Hong Kong society and beyond. He said the Government is also prepared to help Hong Kong seize the historic opportunities arising from the vision of developing the Guangdong-Hong Kong-Macao Bay Area into a global innovation and technology hub. It is also the future direction to which PolyU, together with the MoU partners, can work further.
Professor Ping-kong Alexander Wai, Vice President (Research Development) of PolyU said, "With the synergies created by this strong partnership, significant innovations in chronic diseases, immunomodulation, traditional Chinese medicines, translational medicine and other areas are expected."
"This collaboration with two leading European research organisations also adds on to the recent efforts initiated by PolyU in establishing the US - Greater Bay Area biotechnology and translational medicine collaborative platform, with other five universities/institution from the United States and Sun Yat-sen University, Shenzhen University, Macau University of Science and Technology from China", Professor Wai further remarked. "This partnership with Fraunhofer and KIT marks another critical step towards synergising the strengths of different platforms within the Great Bay Area and throughout the world."
Fraunhofer-Gesellschaft
Fraunhofer is Europe's top and the largest application-oriented research organisation with over 24,000 employees. Its research activities are conducted by 72 institutes and research units at locations throughout Germany. Fraunhofer Group for Life Sciences consists of seven Fraunhofer member institutes. Their combined knowledge of biology, chemistry, biochemistry, biotechnology, medicine, pharmacology, ecology, and nutritional science is thus pooled and synergised within the Fraunhofer Group.
https://www.fraunhofer.de/en.html
Karlsruhe Institute of Technology (KIT)
KIT pools its three core tasks of research, higher education, and innovation in a mission. With more than 9,000 employees and an annual budget of about EUR 785 million, KIT is one of the biggest research and education institutions worldwide and is also the leading research university under the Helmholtz Association, the largest scientific organisation in Germany.
http://www.kit.edu/english/
(END)
Press Contacts
Dr Terence Lok-ting Lau
Director of Innovation and Technology Development
Tel: (852) 3400 2805
Email: terence.lt.lau@polyu.edu.hk