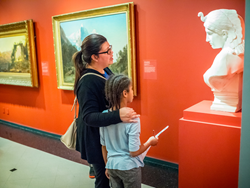 ... the goal is to strengthen our role as an essential public gathering and learning space.
Newark, NJ (PRWEB) March 07, 2018
The Institute of Museum and Library Services today announced that the Newark Museum is among the 29 finalists for the 2018 National Medal for Museum and Library Service.
"The Newark Museum is honored to be recognized as a finalist for the National Medal for Museum and Library Service," said Interim Co-Director Deborah Kasindorf. "Most meaningful though will be what follows. We hope to gain even more attention for our mission by broadly sharing this recognition and the reasons we received it. In doing so, the goal is to strengthen our role as an essential public gathering and learning space."
Located in downtown Newark, the Museum is at the center of a development boom that is revitalizing the city. The Newark Museum's audience reflects the economic, racial and ethnic diversity of the greater Newark area and the entire New Jersey/New York region. Since its founding in 1909 by John Cotton Dana, the Museum has responded to the changing needs and interests of the audiences it serves by providing exhibitions, programming and resources designed to improve and enrich people's lives. The Museum's commitment to serving community needs is demonstrated by initiatives such as a free admission program for all Newark residents, an extensive catalogue of school programs, and free public programming designed to build community, such as the annual Martin Luther King Day celebration, and the Newark Black Film Festival.
National and international visitors drawn by the Museum's renowned global collections are also among the Museum's core constituencies. In 2016, the Museum served more than 250,000 people onsite, online, and in the community. Nearly 75,000 children and adults participated in year-round education initiatives that included more than 60 different onsite and outreach programs for students from Pre-K through 12th grade.
The National Medal is the nation's highest honor given to museums and libraries for service to their communities. For 24 years, the award has celebrated institutions that demonstrate extraordinary and innovative approaches to public service and are making a difference for individuals, families, and communities.
"The 29 National Medal finalists showcase the tremendous ability of libraries and museums to serve as vital community resources," said IMLS Director Dr. Kathryn K. Matthew. "The Institute of Museum and Library Services is honored to recognize these leading institutions. We congratulate them on the work they are doing across the United States."
Finalists are chosen because of their significant and exceptional contributions to their communities. IMLS is encouraging community members who have visited the Newark Museum to share their story on social media on March 8. To #ShareYourStory, please visit http://www.facebook.com/USIMLS or http://www.twitter.com/us_imls and use #IMLSmedals.
National Medal winners will be announced later this spring. Representatives from winning institutions will be honored for their extraordinary contributions at the National Medal Ceremony on May 24 in Washington, D.C.
To see the full list of finalists and learn more about the National Medal, visit the IMLS website.
#