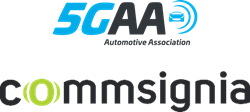 Jozsef Kovacs, CEO Commsignia "As a proven supplier in the development of V2X connected and collaborative solutions, Commsignia intends to participate in building the future Cellular-V2X connected ecosystem."
SANTA CLARA, Calif. (PRWEB) March 06, 2018
Commsignia, Inc., a market leader in the research, development and supply of V2X (Vehicle-to-Everything) connectivity and collaborative systems for the automotive and mobility sectors, today announced that the company has joined the 5G Automotive Association (5GAA). With this announcement, Commsignia joins a group of key players with a global footprint in the communication and automotive industries, including car manufacturers, tier-1 suppliers, chipset/communication system providers, mobile operators and infrastructure vendors.
5GAA was created to enable companies from the automotive and communication industries to develop, test and promote cellular connected mobility solutions, initiate their standardization and accelerate the commercial availability and global market penetration.
Cellular-V2X technology enables cars to communicate traffic and related sensor data with other C-V2X enabled cars, roadside infrastructure and pedestrians' smart phones. Data is aggregated and analysed in real-time to provide road-users with warnings to prevent accidents and a detailed view of the traffic environment. The information can be further distributed over the cellular network to provide advanced alerts of road incidents, weather warnings and traffic information along with enhanced transportation data services to any cellular enabled vehicle. This significantly expands the scope of V2X applications, creating an information network for mobility information and alerts.
Commsignia has already proven its ability to provide reliable V2X connectivity solutions in ITS projects along the European C-ITS Corridor and in cities such as Las Vegas and Tampa, Florida as well as for many key players in the automotive industry. By joining the 5GAA, Commsignia intends to use its specialist V2X domain knowledge to help initiate communications solutions standards and to create interoperable products that will ultimately enable vehicles to be fully automated, making future mobility safer and more efficient. "We are proud to join the 5GAA and work with a prestigious group of leading companies. Cellular communication has a vital role to play in the future deployment of collaborative mobility and vehicle solutions," commented Jozsef Kovacs, CEO Commsignia. "As a proven supplier in the development of V2X connected and collaborative solutions, Commsignia intends to participate in building the future Cellular-V2X connected ecosystem."
Christoph Voigt, Chairman of 5GAA commented, "We are very pleased the Commsignia has joined the association. With its expertise and track record in developing V2X solutions we look forward to their contribution to the development of the next generation of collaborative V2X ITS and automated vehicle solutions."
For further information, please contact
press(at)commsignia(dot)com Cell US: +1 650 614 1771 ; Tel EU: + 41 79 820 50 79
About Commsignia
Commsignia (http://www.commsignia.com) is the market's most dynamic V2X company thanks to its cutting-edge technology and market ready portfolio. Commsignia specializes in Connected Car / V2X "Safer on the Road" software and hardware products compatible with IEEE 802.11p standards and DSRC and future Cellular V2X / 5G technologies. Commsignia is helping to build the next generation autonomous car and smart mobility ecosystem that will make driving safer whilst reducing congestion and lowering emissions. Commsignia supplies best-in-class V2X (Car2X) Communication Software, hybrid V2X /ADAS Applications with robust PKI and SCMS security, a V2X SDK as well as OnBoard (OBU) and Roadside Units (RSU) for connected car and Smart City deployments.