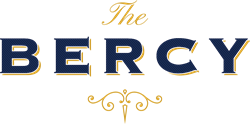 (PRWEB) March 07, 2018
Justin Weathers and Joe Monnich, former Stephen Starr Alums and current partners in Stove & Tap in Lansdale and Al Pastor in Exton, announce plans for the opening of The Bercy. The Bercy will be located at 7 East Lancaster Avenue in Ardmore in the former Haverford Trust building from the 1920's that most recently housed Primavera Pizza Kitchen. A modern take on the classic French brasserie, The Bercy is named for a neighborhood in the 12th arrondissement of Paris. The restaurant will open for dinner initially, with a projected opening in early April. Lunch, weekday breakfast, and weekend brunch will be added by in the Spring, to provide all-day dining and café options, seven days a week.
Monnich is the former executive chef of Parc and The Dandelion and previously held positions with Jean-Georges, Lacroix and Susanna Foo. Weathers held various roles within the Starr Restaurant Group, working at Parc, The Dandelion, and Continental Mid-town. The two met as the opening team at Parc. Austin Schaefer, a Garces alum, most recently at Amada, will serve as Chef de Cuisine.
The Bercy will feature approachable, classically inspired brasserie cuisine, intentionally juxtaposed with the restaurant's grand interior environment. Monnich's culinary direction is rooted in simple cooking techniques that allow great ingredients to speak for themselves. The menu will feature a selection of wood-fired rotisserie, freshly extruded pastas, and an array of steakhouse style cuts. Additionally, the bar area will extend into an open raw bar showcasing daily selections of fresh oysters and seafood. Gluten free and vegan options will be plentiful.
Monnich and Weathers have partnered with Balongue Design to transform the spacious, two-story restaurant into a timeless, well-dressed elegant, and casually chic neighborhood restaurant. Balongue's inspiration for the décor is the feeling of entering a stunning grand hotel, where each moment indulges the dramatic. The space will have a comfortable and elegant feel. Bright white colors offset hues of navy blue and gold for a timeless décor that feels both modern and nostalgic. The design invites social interaction and positive energy, and is warm and inviting.
The Bercy will include 240 seats throughout the 10,000 square foot restaurant. There will be three unique spaces for private dining and parties, and ample room for large group gatherings. The nucleus of the restaurant is an internally lit 60 foot U-shaped bar with 40 seats that provides a "see and be seen" environment with culinary theater from the adjacent wood-fired oven, semi-open kitchen and raw bar areas. Bold rich-hued textiles contrast and compliment the deep lush blue-toned walls. Exuding vibrant energy; this is a place designed for celebration and social gatherings. The open mezzanine is flanked by 20-foot windows to create an open and airy feel bathed in natural light. The floor plan is wheelchair and stroller friendly. Outdoor seating will be available when the weather turns.
The Bercy is intended to be a family-friendly community gathering spot-exciting and chic as a place for date nights, large birthday dinners, and dressed up Saturday nights, yet still appropriate for a quick afternoon bite for a family after a Lower Merion Soccer Club game. Monnich has designed the menu to allow several meals per week, as an approachable destination that is appealing for all kinds of visits.
The Bercy's wine program is aggressive, value-driven, and includes a curated list of quality wines and well-known classics. The opening wines-by-the-glass menu will include eight reds, eight whites, and several sparkling and rose options on tap. Monnich and Weathers view wine as an important complement to their food and ambiance and created this approachable menu with that in mind. The cocktail program is a modern take on classic French cocktails and includes several iterations with a sparkling base. An eclectic beer draft and bottle program includes international beers on tap and by the bottle and features an assortment of French ciders.
For more information visit thebercy.com. Reservations are available on Reserve.com. Find The Bercy on Instagram @thebercy and on Facebook @TheBercy.