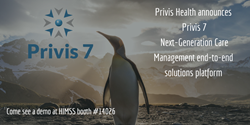 Privis 7 Next-Generation Care Management solutions platform.
RALEIGH, NC. (PRWEB) March 06, 2018
At Privis Health we understand that to manage any population you must address the needs of each individual. Successful, personalized, patient care is provided to the individual, delivered by an engaged and informed care team. Population health must begin with the individual, and then end with a healthier population.
The increased pressures on healthcare providers, and their care teams, are growing daily, and the rising costs of providing services continue to impact bottom-line profits for almost every enterprise. Care teams are overloaded with multiple systems; EHR's, analytics reporting, care plans and data sources most of which don't talk to each other and the data cannot be easily shared with other care team members.
Privis has developed a new generation of software that makes the complexities of care management, CCM and transitions of care, seamless. With the addition of providing patient engagement, and patient placement services, this provides organizations the first end-to-end technology rich service solution. This world class integrated platform allows care team members to focus on their patients, rather than navigating multiple systems.

Privis 7 Care Management – An intuitive interface helps providers coordinate services seamlessly with a dynamic goal oriented shared care plan helping to address the medical, social, behavioral and economic issues that are so fundamental to health and wellbeing. The integrated workflow engine takes data from all types of EHRs, labs, claims and remote monitoring devices, seamlessly integrating that data into powerful, actionable, information for the care team.
Privis 7 Patient Engagement & Patient Placement- Re-imagining care management by focusing on patient engagement and placement solutions. We can provide 24/7 inbound, outbound, after-hours patient engagement and care management services, married with a custom-built platform that is designed for organizations seeking new and effective ways to manage care quality, outcomes and costs.
Privis 7 Artificial Intelligence – Translating the rich, largely untapped, array of clinical data within a patient's chart into clinically relevant, actionable data. Empowering care teams to identify rising-risk patients sooner and take action to improve clinical and financial outcomes for your population.
"Our industry is drowning in data, working on a product that can translate the data into wisdom, and then presenting it to the extended Care Team will make a significant difference in patient care – I want to be part of that!" Phil Fegan CIO Privis Health
ABOUT Privis Health
Privis Health is a leading provider of innovative data-driven population health programs and technology rich services that enable healthcare providers to deliver high quality efficient care to their patient population.
Our scalable, cloud-based platform empowers healthcare providers to better manage risk, while achieving their operating and performance goals as they transition from fee-for-service to value based reimbursement.
In addition, we assist with the design, implementation and expansion of population health programs, while sharing in the accountability for the success of these initiatives. The Privis team has deep experience with a programmatic approach to provide strategies on service models, organizational transformation, quality improvements and learning health system activities.
Offerings include care management, care coordination, transitions of care, chronic care management, and complex CCM programs working in tandem with patient engagement and placement services. We provide a tool kit of evidence-based chronic disease and socio-behavioral assessments that drive the creation of a dynamic shared care plan.
Our gaps-in-care offering captures important variances in care, such as preventive care, community resources, and guides interventions to assist the patient in achieving better outcomes and appropriate interventions
For further information, please contact Privis Health
Contact Sindy Von Bank
Telephone 1-888-533-9490
Email svonbank(at)privishealth(dot)com
Website http://www.privishealth.com