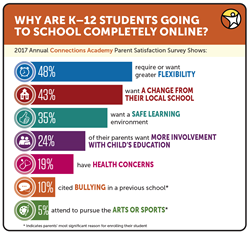 BALTIMORE (PRWEB) March 06, 2018
Connections Academy tuition-free online public schools serving students in grades K-12 have opened enrollment for the 2018-19 school year. For more than 15 years, Connections Academy schools have provided students across the country access to a full-time online school education complete with dedicated and credentialed teachers, award-winning curriculum, and the flexibility to learn from anywhere with an internet connection.
Since partnering with its first schools in 2002, Connections Academy schools has maintained high rankings from parents, most recently with 90 percent of Connections Academy parents* ranking their school an "A" or "B" grade in its 2017 annual Parent Satisfaction Survey. In comparison, 67 percent of public school parents across the country** gave the school their oldest child attends an "A" or "B" grade. The flexible nature of online school enables students to learn at a more tailored pace, further explore passion areas through electives, and more. Unlike traditional homeschooling, Connections Academy teachers work one-on-one with students to set goals and ensure subject mastery.
The diverse student body includes previously homeschooled students, students seeking expanded course offerings and competitive athletes, among others. The school's flexibility even supported prolific alums Mirai Nigasu, Nathan Chen, Vincent Zhou and Karen Chen as they chased international ice skating glory at the Winter Olympics in PyeongChang, as they could accommodate their academics around rigorous training schedules.
Family data also shows the top motivators for choosing online school and enrolling in Connections Academy schools: a need for more flexibility (48 percent), seeking a change from their local school (43 percent), seeking a safe learning environment (35 percent) and a desire for increased parental involvement (24 percent). Families also cited health concerns, bullying or extracurricular activities as reasons for enrollment.
Connections Academy schools nationwide will host a number of free information sessions to meet with the growing number of families who want to know more about full-time online school. Parents, caretakers and students can attend one of the nearly 700 in-person information sessions or the 750 online information sessions taking place across the country to learn more and to determine if virtual learning is a good fit for their student. Interested families can also reach out to a parent in their state to ask questions, or join one of 100 online parent panels offered to families. For more information on upcoming events or how to enroll, please visit: http://www.ConnectionsAcademy.com.
About Connections Academy
Connections Academy is a leading provider of high-quality virtual schooling for students in grades K through 12. Connections Academy delivers superior, personalized education for students, with the freedom and flexibility to experience the Connections Academy online learning community from anywhere. The combination of certified teachers, an award-winning curriculum, technology tools, and community experiences creates a supportive and successful online learning opportunity for families and children who want an individualized approach to education. Connections Academy-supported schools offer grades K through 12, though some public school programs do not offer all grades. For more information, call 888-410-6502 or visit http://www.ConnectionsAcademy.com. Connections Academy is part of the global learning company Pearson.
Survey methodology
Connections Academy conducts the annual Parent Satisfaction Survey to find out how parents, guardians and Learning Coaches grade the program in several key areas. The 2017 survey was conducted from January 17 to March 3, 2017 by Shapiro + Raj, an independent market research company which created the questionnaire, collected the data, and tabulated the results. No individual responses were accessible to Connections Academy. Parents of all students enrolled at the time of the survey were invited to complete the survey online. A WebMail invitation was sent to each parent, and one response per household was submitted. Thirty-six percent of the more than 48,500 families with students enrolled in a Connections Academy school at the time of the survey responded to the survey.
*According to Connections Academy's 2017 annual parent satisfaction survey
**According to the 48th Annual Phi Delta Kappa/Gallup Poll of the Public's Attitudes Toward the Public Schools