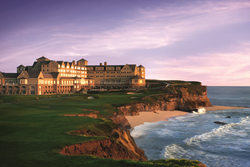 HALF MOON BAY, Calif. (PRWEB) March 06, 2018
The Ritz-Carlton, Half Moon Bay – the San Francisco Bay area's only oceanfront resort – is pleased to announce the complete lineup of award-winning, star chefs for this year's "Global Cuisine Series" program. Returning for its second year, The Global Cuisine Series at the iconic resort is an epicurean weekend retreat offered once a month exclusively to Ritz-Carlton Rewards, Marriott Rewards and SPG Rewards Members. The one-night package features an overnight stay in a Coastal View room, an intimate hands-on cooking class with the famed chef for up to 16 guests and is followed by a wine-paired luncheon where guests have the once-in-a-lifetime opportunity to sit down with and get to know the guest chef.
Traveling around the globe and experiencing exceptional cuisine by chefs of diverse backgrounds and cultures inspired Executive Chef Xavier Salomon to create the Global Cuisine Series.
"Through my travels around the world, I had the privilege of experiencing cuisine by chefs who were passionate about creating menus that brought to life their family heritage but with their own interpretation and modern take and I wanted to share this experience with our guests," said Salomon.
In addition to the interactive activities, the guest chef will showcase two signature dishes on the Navio tasting menu in collaboration with Chef de Cuisine Jason Pringle for Friday night along with a pop-up station at Navio's acclaimed Sunday Brunch. Guests may opt to reserve these experiences separately from the package.
The 2018 Global Cuisine Series debuted with Tanya Holland, Top Chef Contestant and Executive Chef of Oakland's Brown Sugar Kitchen and Louis Tikaram, named a "Young Chef to Watch" by Condé Nast Traveler and Executive Chef of Los Angeles' E.P. & L.P. The upcoming schedule is as follows:

Friday, March 23 – Sunday, March 25 - Michael Fiorelli of Love & Salt, Los Angeles awarded Three Stars by Los Angeles Magazine presents California-Centric Italian cuisine
Friday, April 27 – Sunday, April 29 – Rupert and Carrie Blease of Michelin Star Lord Stanley, San Francisco presents Modern European cuisine
Friday, May 18 – Sunday, May 20 - James Syhabout of Two Michelin Star Commis and Hawker Fare presents Home-Style Thai Isan and Lao cuisine
Friday, June 22 – Sunday, June 24 - Jason Fox of Michelin Star Commonwealth, San Francisco presents Progressive Californian cuisine
Friday, July 27 – Sunday, July 29 - Edgar Agbayani of Dumpling Time, San Francisco named San Francisco's Best Dumplings by EaterSF presents Asian-Inspired Dumplings
Friday, August 24 – Sunday, August 26 - Dean Fearing of Fearing's, Dallas, known as the 'Father of Southwestern Cuisine' and winner of the Silver Spoon Award by Food Arts presents Southwestern cuisine
Friday, September 21 – Sunday, September 23 - Jackson Yu of Michelin Star Omakase, San Francisco presents Edomae-Style Sushi
Friday, October 26 – Sunday, October 28 - Dominique Crenn of Two Michelin Star Atelier Crenn and Petit Crenn and awarded World's Best Female Chef by San Pellegrino's 50 Best presents Brittany-Inspired French cuisine
Friday, November 16 – Sunday, November 18 - Pastry Chef Celine Plano of acclaimed Pascaline Fine Catering, Sebastopol presents Simple and Delicious Pastries
Friday, December 14 – Sunday, December 16 - Gonzalo Guzman of Nopalito, San Francisco awarded Three Stars by the San Francisco Chronicle presents Regional Mexican
The Global Cuisine Series package at The Ritz-Carlton, Half Moon Bay will be offered on the Marriott Moments and SPG Moments websites where rewards guests will be invited to bid points to win this exclusive package. Each package will include an overnight stay, chef-led cooking class, luncheon, and $100 resort credit per night along with the resort fee and valet parking per night.
For more information, please visit http://www.ritzcarlton.com/en/hotels/california/half-moon-bay/dining/global-cuisine-series.
About The Ritz-Carlton, Half Moon Bay
Set atop a rugged bluff overlooking 50 miles of pristine California coastline, The Ritz-Carlton, Half Moon Bay is a 261-room spa and golf resort offering a relaxing and romantic setting. As the San Francisco Bay Area's only oceanfront resort, the timeless estate provides guests with a relaxed yet refined experience for a romantic getaway. For more information, please contact The Ritz-Carlton, Half Moon Bay at 650-712-7000. For room reservations, contact your travel professional, visit ritzcarlton.com/HMB or call Ritz-Carlton worldwide reservations at
800-241-3333. Visit ExperienceHalfMoonBay.com to learn more about the destination.