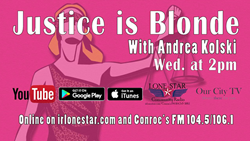 THE WOODLANDS, Texas (PRWEB) April 03, 2018
Lawyer Andrea M. Kolski has dedicated her life to fighting for the rights of Texas citizens. After graduating from the University of Texas, she spent 6 years as an Assistant District Attorney for Harris County where she handled a full range of criminal cases including homicide, manslaughter, domestic violence, DWI, and others. In 2005 she began her private practice and used her skills to defend the rights of accused citizens. For the past 11 years, she has successfully represented clients in a wide range of criminal, domestic, and family cases.
A past president of the Montgomery County Defense Bar, Ms. Kolski has worked many high-profile cases. With a deep understanding of both sides of the courtroom, she is committed to representing and helping everyday citizens navigate the legal process and understand their rights in a variety of criminal and family matters.
Her passion for the law can be seen and heard on the "Justice is Blonde" radio show airing Wednesdays Lonestar Radio FM104.5 & 106.1. Ms. Kolski created "Justice is Blonde" as a vehicle to discuss the latest developments in the laws impacting Texas citizens. In addition, she invites an array of expert guests ranging from politicians, professional athletes, and fellow lawyers to share their insights on today's hottest legal topics. Listeners can also subscribe and view previous episodes on the "Justice is Blonde" YouTube channel.
About Andrea M. Kolski
Andrea M. Kolski is a veteran prosecutor and expert criminal law and family law attorney based in The Woodlands, TX and serving Montgomery County and the Greater Houston area. She is a Top 100 National Trial Lawyer and has excellent reviews from both past and present clients. She has maintained an extraordinary 9.9 AVVO rating and 5 star Google rating from her wide array of clientele.
All in-person meetings are by appointment only. Due to high demand and the quality of her representation, Ms. Kolski accepts only a limited number of new cases. Those facing criminal charges may call 832-381-3430 for a free case evaluation. Interested persons may also visit https://www.nonstopjustice.com to learn more.