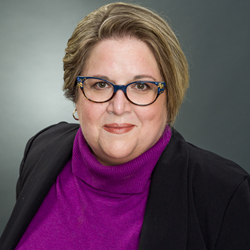 "Her strategic vision ... will take ReelDx to the next level ... helping our customers at medical universities and other medical training partners transform their medical education programs with the power of ReelDx's real patient videos." - Brock Metcalf, PhD
PORTLAND, Ore. (PRWEB) March 06, 2018
ReelDx, the leading provider of easy-to-use, secure, HIPAA-compliant real patient videos for medical education, today named Julia Alena as president and chief executive officer. Alena, formerly vice president and chief customer officer at ReelDx, brings more than 20 years of experience in sales, marketing, services, operations and customer-centric leadership to her new role leading the company.
"We are very pleased that Julia will be driving the overall strategic direction of ReelDx in her new role as president and CEO. She has been a tremendous asset to ReelDx since she joined the company two years ago and she has brought extensive knowledge of the healthcare industry, a keen understanding of customer needs, and a very focused marketing and sales strategy to the team," said Brock Metcalf, PhD, chairman of the board of ReelDx and founder of Reference Capital Management. "Her strategic vision and strong track record of customer success will take ReelDx to the next level, building on an already strong foundation while helping our customers at medical universities and other medical training partners transform their medical education programs with the power of ReelDx's real patient videos."
ReelDx Co-Founder and Chief Medical Officer Dr. David Spiro added, "Julia has a real gift of understanding our customers' needs and she has transformed how ReelDx will move into the future. Our goal is to provide the best, HIPAA-compliant real patient videos for medical education that will continue to revolutionize both the initial medical school education and continuing education of countless doctors, nurses, emergency medical technicians, physician assistants, and other medical professionals around the world."
ReelDx has a large and growing video library more than 700 HIPAA-compliant videos of real patient cases on more than 1,000 topics. These videos, which include provider-patient interactions, ultrasound, imaging, and lab data, are captured by healthcare providers with patients' permission in emergency rooms, medical exam rooms, ambulances, and in remote medical facilities in developing countries around the world. ReelDx's videos are used by medical educators as training tools which showcase real-life patient stories that improve student attention, retention and performance.
ReelDx's customers using these videos in their medical education programs include several universities such as Brigham Young University College of Nursing, Del Mar College's Emergency Medical Services Program, Drexel University College of Nursing and Health Professionals, Frontier Nursing University, Georgetown University School of Nursing, Oregon Health & Science University School of Medicine, New York University Rory Meyers College of Nursing, Pacific University College of Health Professions, University of Louisville School of Medicine, University of Tampa School of Nursing, Vanderbilt University School of Nursing, Western Carolina University's Emergency Medical Services program, and Yale University's Yale School of Medicine, among others.
"I am honored to be selected as CEO, and to lead ReelDx into its next chapter of corporate growth and development," said Alena, new president and chief executive officer of ReelDx. "It has been very rewarding to see the growing success of our ReelDx Medical Education (MedEd) product - particularly with our Graduate Nursing and EMS Education customers. We're also seeing great results from our Continuing Education pilot program with the Oregon Department of Transportation where we're evaluating the acceptance of real patient video-based training courses for rural Emergency Medical Service professionals (paramedics and EMTs). ReelDx has a unique offering and I'm excited about our opportunities ahead in the healthcare education market."
About ReelDx
ReelDx is transforming medical education with real patient video. Founded 2013 by Co-Founders Dr. David Spiro and Bill Kelly, the company's team of experienced medical professionals and technologists is focused on providing easy-to-use, secure, HIPAA-compliant real patient videos for medical education. For more information, visit http://www.reeldx.com.