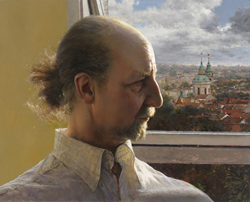 "Leading the revival of realism, the 13th International ARC Salon Competition received over 3,750 entries from 69 countries."
NEW YORK (PRWEB) April 05, 2018
The Art Renewal Center (ARC), a 501(c)3 non-profit educational foundation dedicated to realist art and skill-based training techniques in the visual arts, is proud to announce its winners and finalists for the 13th International ARC Salon Competition. With over 3,750 entries from 69 countries, the ARC Salon is one of the largest and most distinguished realist fine art competitions in the world. This year our finalists represented approximately 28% of entries received and 176 awards and honorable mentions were given.
The ARC Salon offers more than $100,000 in cash awards in addition to international recognition through partnerships with prestigious magazines, galleries, museum exhibitions and a strong online presence. Selected winners and finalists will also have the opportunity to have their works included in the 13th International ARC Salon Exhibition, which spans over a six-month period, beginning at the Salmagundi Club in New York, NY in September, traveling to Sotheby's Los Angeles, CA and ending at the MEAM Museum in Barcelona, Spain in February – March of 2019.
Frederick C. Ross, Chairman of the Art Renewal Center, says, "Every year I continue to be amazed at the quality and originality of the newest crop of ARC Salon winners and finalists which just keeps getting better at an accelerating pace. Nothing demonstrates better than these fine works of art that Realism in the fine arts is a universal visual language. That alone makes Realism one of humanities greatest accomplishments. The purpose of all language is communication and alone, among all living things, people have the capacity to communicate with each other in near limitless complexity and sophistication using realism. Whether with those whose lives we share, or those with whom we work, or whether it is to create records about life and history, realism serves this vital purpose of communication."
To view the winnings artworks, learn more about our selection process, or find updates on the international exhibition, visit the Art Renewal Center's website and follow us on social media.
Competition Results: http://www.arcsalon.org
Website: artrenewal.org
Facebook: facebook.com/Art-Renewal-Center
Twitter: @ArtRenewalCtr
Instagram: @ArtRenewalCenter