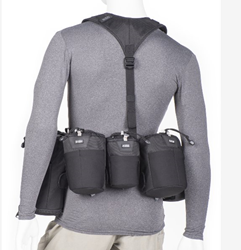 (PRWEB) March 07, 2018
Think Tank Photo, creator of the photography industry's largest modular collection, has released Version 3.0 of its popular Modular Belt System, with improved access speed and ease while accommodating for today's gear. The Modular Belt System moves weight from photographers' shoulders to their waists for more comfortable all-day carry. Many of the new pouches are expandable to fit pro-sized lenses with hoods in the shooting position.
The newly added Camera Clip Adapter V3.0 belt attachment for the Peak Design Capture Clip, SpiderLight and SpiderPro camera clips allows the clip to rotate on any Think Tank belt for better workflow. Using Think Tank's patented rotate or lock technology, photographers can lock down their pouches or rotate them freely around the belt when kneeling, sitting or running.
The Lens Changers V3.0 feature one-hand drawstring closures that secures lenses, wide-mouth opening for quick one-handed access, and outer stretch pocket provides space for a lens cap. In addition to new versions of the existing Lens Pouches, the brand-new Lens Changer 150 V3.0 accommodates a 150–600mm f/5–6.3 lens with hood reversed. The Lens Changers include:

Lens Changer 15 V3.0
Lens Changer 25 V3.0
Lens Changer 35 V3.0
Lens Changer 50 V3.0
LC75 Pop Down V3.0
Lens Changer 150 V3.0
Lens Pouches V3.0 offer a wide variety of essential features. The new Flash Mob V3.0 is a belt pouch for DSLR flashes with attached diffuser. The Hubba Hubba Hiney V3.0 beltpack/shoulder bag hybrid includes removable dividers and is a versatile lightweight solution for carrying a small camera kit, lenses or accessories. The new Lens Pouches include:
Little Stuff It! V3.0
Stuff It! V3.0
R U Thirsty? V3.0
Slim Changer V3.0
Speed Changer V3.0
The Skin Lens Changers are lightweight compressible modular pouches that hold a wide variety of lenses. The Skin pouches include:
Skin 50 V3.0
Skin 75 Pop Down V3.0
Skin Changer Pop Down V3.0
The new Modular Essentials Set V3.0 includes four of the most popular modular pouches. Photographers get the R U Thirsty? water bottle pouch free compared to buying each component separately. The set includes the Lens Changer 50 V3.0, LC75 Pop-Down V3.0, Speed Changer V3.0, and the R U Thirsty? V3.0.
Modular belts and harnesses have also been upgraded. All belt edges are padded for comfort and support and the adjustable buckle prevents the belt from loosening yet is easy to resize. The new belts and harnesses include:
Thin Skin Belt V3.0 (S-M-L)
Pro Speed Belt V3.0 (S-M)
Pro Speed Belt V3.0 (M-L)
Pro Speed Belt V3.0 (L-XL)
Pixel Racing Harness V3.0
The new accessories include:

# # #
ABOUT THINK TANK PHOTO
Headquartered in Santa Rosa, California, Think Tank Photo is a group of designers and professional photographers focused on studying how photographers work and developing inventive new carrying solutions that meet their needs. They are dedicated to using only the highest quality materials and design principles, and employing materials that are environmentally benign.