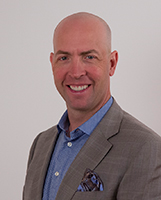 NEW FREEDOM, Pa. (PRWEB) March 07, 2018
Gordon Harmon brings more than 22 years of experience in the capital medical device market to his role as Sr. Vice President of Sales at Oakworks, Inc. He has held the role Vice President of Sales at ArjoHuntleigh and The Getinge Group over the last 12 years.
Richard Shuman, President of Oakworks said, "We committed ourselves to investing more in our sales and commercial leadership as we expanded our Medical and Spa Portfolios. In Medical, we launched a new U.S. brand, iNSPIRIT Medical Solutions, whose products serve the Surgery Center Suite and Hospital Patient Handling needs. In Spa, we launched Products and Solutions that have re-energized Oakworks within the spa industry. Gordon's experience in the Medical Capital Goods Market, his passion for the broader Wellness Industry and the people involved in it and his demonstrated commitment to creating win-win situations for customers and our company, make him an ideal choice. We welcome him to the Oakworks leadership team."
Gordon added, "I am excited to join an organization that has a passion for providing products into the health care market that solve customers' needs. Oakworks has a strong value proposition, I look forward to building and executing the go-to market strategies."
Gordon studied economics in Canada at York University. He furthered his academic career in the U.S., obtaining a business degree. In his free time, he enjoys spending time with his family, playing and coaching lacrosse.
About Oakworks:
OAKWORKS Solutions:
OAKWORKS Solutions offers four unique brands; iNSPIRIT Medical Solutions, OAKWORKS Medical, OAKWORKS Spa, and OAKWORKS Massage. All brands are supported by the U.S.-based customer service team, and product service solutions are offered world-wide to support the products offered. For more information, visit http://www.oakworks.com
Oakworks, Inc.:
Oakworks, Inc., is the manufacturer of equipment for the brands Oakworks Medical, Oakworks Spa, and Oakworks Massage. Since 1978, Oakworks, Inc. has been committed to providing safe, durable, comfortable, and ergonomic equipment to industries supporting the health and well-being of people all over the world. Oakworks mission and vision is to be the manufacturer that truly encompasses the equipment needs of all the professions within Integrative Healthcare and their clients: the physicians, surgeons, and technicians who require equipment designed to improve outcomes in fast paced environments with features such as radiolucency, powered functions, bariatric strength, and superior patient access. With over thirty years design and manufacturing experience and a 91,000 square foot state of the art facility located in Southern Pennsylvania, Oakworks is known for design innovation, sophisticated engineering, and quick turnaround time. Every table built in the modern manufacturing facility comes with the reliability that today's medical professional demands. Offering a unique commitment to U.S. manufacturing and environmental wellness, Oakworks is setting the global standard for medical, spa, and massage tables and accessories. For more information, visit http://www.oakworks.com
For additional information on OAKWORKS and products offered by OAKWORKS Solutions:
Email: info(at)OAKWORKS(dot)com
Phone: 717.235.6807