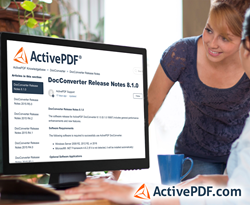 "DocConverter 8.1.0 continues the work by giving users the ability to extract digital signature details within emails." ~ Tim Sullivan
LAGUNA NIGUEL, Calif. (PRWEB) April 03, 2018
ActivePDF, the leading provider of PDF automation technologies and solutions, is proud to announce the major release and availability of DocConverter 8.1.0. The new version of DocConverter empowers developers with new features including digital signature extraction, the inclusion of JavaScript Object Notation (JSON), and more.
DocConverter allows users to control PDF conversion through their entire enterprise, while managing the processes from a single location. DocConverter 8.1.0 expands on its ability to transform hundreds of file types to-and-from high-fidelity PDF, while implementing the latest upgrades that includes performance enhancements and features such as digital signature functionality.
"While digital signature technology is becoming more mainstream, there's still work to be done in regards to the many ways businesses use and work with them in a high-volume PDF environment," says Tim Sullivan, ActivePDF Chief Architect and CEO. "DocConverter 8.1.0 continues the work by giving users the ability to extract digital signature details within emails. One great use for this functionality is the ability to easily extract and store the signature certificate and save to contact entries. We're very excited to roll out this feature and others in DocConverter 8.1.0."
In addition to general updates to the code base for improved performance, new features to DocConverter 8.1.0 include:

The ability to easily extract digital signature details within emails
Migrated Extensible Markup Language (XML) to JavaScript Object Notation (JSON)
LibreOffice 5.4 update
DocConverter 8.1.0 also includes CADConverter functionality, making it easy to convert complex CAD files such as drawings, plans and diagrams to high-fidelity PDF and PDF/A files.
To learn more about install requirements and other information on DocConverter 8.1.0, visit Release Notes. Download the DocConverter 8.1.0 free trial here.
About ActivePDF
Founded 2000, ActivePDF Inc., is privately held and is a global provider of PDF tools for integration within virtually any business process, including Digital Transformation, Enterprise Content Management (ECM), Document Management, and Workflow solutions. The ActivePDF suite of technologies and solutions are represented amongst 40% of Fortune 500 companies and are designed to streamline large volumes of rendering and assembly of content into accurate, secure and accessible PDFs. We serve over 25,000 customers from 90 countries in numerous industries such as Healthcare, Financial, Education, Manufacturing, Utilities, Engineering, Legal and Government. For more company information, visit ActivePDF.com.
For additional information, please contact:
Derek Gerber, Director of Marketing
derek.gerber@activepdf.com
ACTIVEPDF and the ActivePDF Logo are registered trademarks of ActivePDF, Inc. All other trademarks are property of their respective owners.