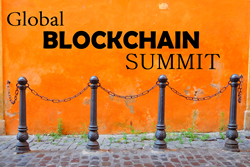 GOLDEN, Colo. (PRWEB) March 08, 2018
Global Blockchain Summit, the premiere event featuring global experts on all things Blockchain, Hyperledger, Bitcoin, Ethereum, supply chain, social & humanitarian, and FinTech, announced its second annual Summit will commence on April 19–20 at The Summit Conference and Event Center in Aurora, Colorado, just a short drive from downtown Denver.
A core focus of this year's event is on diversity, equality and women in blockchain featuring Carolina Abenante, Founder of NYIAX, Pamela Norton, Founder and CEO of Borsetta, Youngsook Park, Co-Chair of the Global ICO Association and Emily, CMO of ShapeShift AG.
The Summit will feature some of the world's most prominent blockchain and distributed ledger experts, as well as blockchain companies — many of which are headquartered in Colorado. Speakers include:

Hyperledger: David Huseby, Security Maven
Evercoin: Miko Matsumura, Co-Founder
Tapscott Group: Bob Tapscott, Speaker and Author
ShapeShift: Emily, Chief Marketing Officer
VMware: Michael DiPetrillo, Senior Director of Blockchain Technologies
Integra Ledger: David Berger, CTO
Global ICO Association: Youngsook Park, Co-Chair
Dragonchain: George Sarharis, Founder & Chief Business Officer
E7 Ventures / Dcntral.ai: David Cohen, Founder
Dash: Chuck Williams, Head of UI/UX Development
Integra Ledger: David Berger, CTO
Government Blockchain Association: Gerard Daché, President
IEEE Blockchain: Jason Rupe
Colorado Blockchain Capital: Josh Finkleman, Managing Partner
Rebel A.I.: Manny Puentes, CEO
Colorado Division of Securities: Gerald Rome, Colorado Securities Commissioner
Dcntral: James Barry, CTO and Co-Founder
Founderbit: Cam Turner, Co-Founder
Salt Lending: Gregg Bell, Operations
GitCoin: Kevin Owocki, Founder
This year's Global Blockchain Summit is sponsored in part by Husch Blackwell, Colorado Blockchain Capital, VMware, and dozens more. Media partners include BTC Media, the first dedicated media outlet for digital currency and publisher of Bitcoin Magazine and The Distributed Ledger, and Cast Influence's InfluenceNow Podcast, who will be interviewing speakers leading up to and during the Summit.
Summit Details:
Thursday April 19, 2018 - Friday, April 20, 2018
The Summit Conference and Event Center
411 Sable Blvd. N. Aurora, CO 80011
Google Map
Tickets to Global Blockchain Summit are $799 for both days and $499 for one day. Students and government officials can purchase two day passes for $499 total.
Attendance is limited to 400 people. To register with a $50 discount, visit https://globalblockchainsummit.com/press. For sponsorship information, please contact info(at)globaldatasummit(dot)com.
About Global Blockchain Summit
Global Blockchain Summit is a gathering of experts from around the world sharing knowledge and insights about Blockchain, the breakthrough technology that is poised to change how everyone interacts in the global economy. Vastly beyond cryptocurrencies and ICOs, the underlying distributed ledger technology can support initiatives that enable people to take more direct control of their identity, assets, accounts, and interactions with others. The Global Blockchain Summit is a conference structured in a way that supports meaningful interactions between speakers, experts, participants and entrepreneurs. For more information, please visit https://globalblockchainsummit.com/ or follow us on Twitter @gblockchain1.