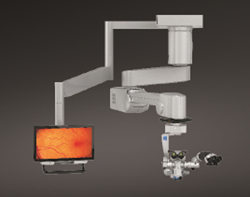 HARLOW, UK (PRWEB UK) 7 March 2018
If more space is required in the operating room, then a microscope ceiling unit is the ideal alternative to a floor stand. Haag-Streit Surgical now offers 2 ceiling unit options; the CU 3-51 (halogen) and CU 3-55 (LED). Both support all microsurgical procedures in ophthalmology, ENT and plastic & reconstructive surgery, and are fully-compatible with Hi-R NEO 900/900A microscopes.
High-movability is key in a ceiling unit, and both the CU 3-51 and CU 3-55 provide a; 1700mm arm reach, 340° + 340° swivel area, 895mm vertical lift and a floor clearance of 1900mm. For individual solutions, intermediate bodies for different ceiling heights from 2800mm to 4000mm are offered. They also have perfect damping and automatic balancing, which are essential for fast and stress-free surgery.
The completely modular CU 3-51 and CU 3-55 microscope ceiling units allow the integration of documentation and recording systems, as well as intraoperative OCT and 3D solutions. All functions of the ceiling unit are operated via a central 'control centre' – a 21.5" C.MON multi-touch HD monitor. Up to 30 individual Surgeon user settings can be stored, with five applications each.
For more information on the CU 3-51 and 3-55 microscope ceiling units, please call Haag-Streit UK on (01279) 883807, or email microscopes@haag-streit-uk.com.
###
For news media enquiries, please contact:
Erika Poole
Marketing Co-ordinator
Email: epoole(at)haag-streit-uk.com
DDI: 01279 456260