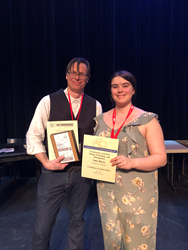 We jumped at the chance to be a sponsor again this year, as we believe it's important to empower and support young designers who are beginning their professional careers.
COLUMBIA, Md. (PRWEB) March 08, 2018
Global design and BIM software developer Vectorworks, Inc. sponsored the Kennedy Center American College Theater Festival (KCACTF) for the second year and congratulates the winners of each region for their recognition as emerging entertainment design professionals.
Eight regional festivals took place from January 9 to March 3, 2018 and included workshops, discussions, regional-level scholarships and award programs, which allowed students the chance to present their best productions and receive feedback from professionals.
For each of the regional festivals, a winner in the Design, Technology and Management category received a professional license of Vectorworks Spotlight 2018 software. Entries were evaluated and chosen based on excellence, efficiency, innovation and visual presentation techniques.
"Year after year, the KCACTF Regional Awards produces impressive and inspiring projects," said Alice Lowy, marketing programs director at Vectorworks. "We jumped at the chance to be a sponsor again this year, as we believe it's important to empower and support young designers who are beginning their professional careers."
Congratulations to all the winners:
Region 1: Liam Day from Clark University for "The Little Mermaid."
Region 2: Christopher Erbe from Montclair State University for "Company."
Region 3: Allison Granat from Valparaiso University for "His Dark Materials."
Region 4: Shelby Ashley from Northeast State Community College for "Crimes of the Heart" and "The Foreigner."
Region 5: Mattie McIntosh from University of Nebraska-Lincoln for "Stupid F8cking Bird."
Region 6: Eric Armstrong from The University of Arkansas for "Avenue Q."
Region 7: Amy Beery from George Fox University for "Sunday in the Park with George" and "Deus Ex Millennia."
Region 8: Christiana Kuey from Cal Poly Pomona for "Intimate Apparel."
"Being awarded Vectorworks was a great privilege," said Ashley. "No one in my college has it, including the professors, so I am excited to teach myself and others how to use it. This will advance my skills in drafting and will help me continue my career as a designer."
To learn more about how Vectorworks supports the academic community, visit vectorworks.net/education.
ABOUT KCACTF
The purpose of the KCACTF presentation and response is to provide outstanding student designers and technicians with the opportunity to showcase their work at regional festivals, where they will receive valuable feedback from professionals working in the field. Awards are presented for designs and other allied crafts appraised based on quality, effectiveness, originality and visual presentation techniques.
ABOUT VECTORWORKS, INC.
Vectorworks, Inc. is a global design and BIM software developer serving over 650,000 professionals in the architecture, landscape and entertainment industries. Since 1985, we've been committed to helping designers capture inspiration, nurture innovation, communicate effectively and bring their visions to life. With our cross-platform software, designers can build data-rich, visual models without sacrificing the design process, while collaborating efficiently throughout the project life-cycle. Headquartered in Columbia, Maryland, with offices in Atlanta, Georgia, Newbury, England and London, England, Vectorworks is a part of the Nemetschek Group. Learn how we empower designers to create experiences that transform the world at vectorworks.net.
###