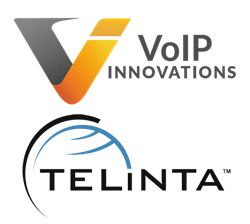 Together our companies can help any VoIP service provider to offer the mobile services their customers and resellers demand.
Pittsburgh, PA (PRWEB) March 12, 2018
VoIP Innovations (VI), a communications provider that offers cloud communication APIs, and Telinta, a global leader in white label cloud-based switching and billing solutions, have teamed up to provide a unique messaging solution for Mobile VoIP service providers.
Using Telinta's brandable TeliGlobe (tm) Mobile Softphone solution, combined with SMS services and Programmable Numbers (enhanced DIDs) from VI, VoIP service providers can offer both on-net and off-net SMS messaging services anywhere in the world.
The two companies working together provide a ubiquitous solution for both sending and receiving mobile text messages:

Off-net SMS can be offered via VI for use with any cellphone or other SMS-enabled device on any provider's network.
On-net messaging can be provided between TeliGlobe users via the SIMPLE protocol, which is supported as a standard part of Telinta's cloud-based softswitch solutions.
Telinta's carrier-grade TeliCore (tm) softswitch platform integrates switching, billing and customer management to offer world-class solutions for VoIP service providers. Telinta leads the industry in providing its customers with comprehensive training and 24x7 live technical support.
"Telinta works with industry-leading partners, such as VI, to give our customers the capabilities they need to compete and win in the marketplace," said Alex Ferdman, CEO of Telinta. "Today's high-growth opportunity for Mobile services is extremely attractive to VoIP service providers, and Telinta is committed to helping our customers succeed."
"Our SMS services are the perfect complement to Telinta's white label Mobile VoIP solution," said David Walsh, CEO of VI. "Together our companies can help any VoIP service provider to offer the mobile services their customers and resellers demand."
VI customers signing up for new service with Telinta will receive one month free, a $400 credit on their first monthly invoice for switching and billing. Telinta customers who open a new account with VI will receive reduced monthly minimums.
For more information on getting started with VI, visit their website or contact them today.
About Telinta:
Founded in 2002, Telinta, Inc. offers secure and reliable cloud-based Switching and Billing solutions for VoIP service providers around the globe. Telinta's full portfolio of white label carrier-grade solutions is highly customizable for VoIP service providers and their resellers. This includes Hosted PBX, Mobile Solutions, Audio-Conferencing, Business and Residential VoIP, Calling Card, Pinless, Wholesale VoIP and other hosted solutions. Please visit us at http://www.telinta.com for more information.
About VoIP Innovations:
VI provides the largest phone number and termination VoIP footprint in North America. Their network includes hundreds of thousands of Programmable Numbers in over 8,500 rate centers across the US and Canada and in over 60 countries around the world. Customers can build their own services on the VI network or add voice, messaging, and video to apps, services, or business processes. VI also offers a pre-built application Showroom comprised of various communication applications and services. VI was founded in 2007 and is owned by ABG Capital and is based in Pittsburgh, PA. To learn more, please visit the VoIP Innovations Blog.