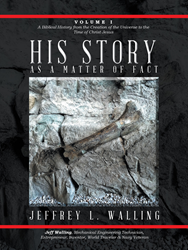 CHESAPEAKE, Va. (PRWEB) March 12, 2018
Discussing how humanistic theology continues to target Christianity and its beliefs with arguments rooted in selective science, author Jeffrey L. Walling presents his defense in "HIS STORY: As a Matter of Fact."
As a man of faith and science, Walling addresses how children and adults alike are being influenced by secular environments to discount many of the principles in the Bible, despite how historical and scientific evidence offers support of the Christian faith.
"The Secular Humanists must be called out for their pseudo-sciences and the make-believe world they are militantly trying to establish, just as Moses, Jesus, and Martin Luther did," said Walling. "I believe that if we get this out to the public, it will cause a stir and the truth will have its day."
"HIS STORY" aims to expose the secular humanist religion for its hypocrisy and misplaced priorities to put an end to Christianity.
"HIS STORY: As a Matter of Fact"
By Jeffrey L. Walling
ISBN: 9781532036187 (softcover); 9781532036170 (electronic)
Available at the iUniverse Online Bookstore, Amazon, and Barnes & Noble
About the author
Jeffrey L. Walling owns and operates a small engineering firm in Chesapeake, VA, holds a certification for ministerial training from the Rock Bible Institute and a degree in mechanical engineering technology from Penn Foster College. He has developed a passion for reading over the past 20 years and is an avid student of biblical studies, science, technology, physics, and history.
###
General Inquiries:
LAVIDGE – Phoenix
Bryan Beach
480-306-6554
bbeach(at)lavidge(dot)com
Review Copies & Interview Requests:
LAVIDGE – Phoenix
Kiersten Woglom
480-998-2600 x 586
kwoglom(at)lavidge(dot)com