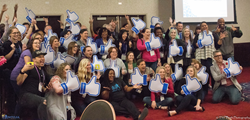 "Last year's SMTULSA conference goes down as one of (if not the) most memorable, useful, and tactical shows I've attended. I loved it and have used the knowledge that I gained from those sessions in many of my day to day and long-term strategies." Aaron Loveland
TULSA, Okla. (PRWEB) March 13, 2018
In today's digitally connected landscape, businesses, non-profits, artists and authors must effectively leverage online social trends to reach their audiences. Equipping these organizations and entrepreneurs for social media success is the mission of the annual SMTULSA® Social Business Conference, the premier social media and business conference in the Tulsa area. This year's conference gathers for a unique, interactive learning experience Thursday, March 29–Friday, March 30, 2018, at the Hard Rock Hotel & Casino Tulsa.
The mission of the SMTULSA Social Business Conference is to foster social learning and networking opportunities that help area businesses grow. In informative, practical sessions, speakers will discuss digital marketing strategy, networking, and other techniques to help businesspeople stand out in a crowded digital world and make a mark that will give their business longevity. In today's tight, competitive marketing space, conference attendees benefit from practical advice from business experts who are successfully using the social media tools and techniques they share about during the conference.
"Speaking at SMTULSA is like having a conversation with your friends about stuff you really care about," says Dr. Adam C. Earnheardt, professor and chair of the department of communication at Youngstown State University in Youngstown, OH. Earnheardt researches and writes about social media and technology. This year, he will speak at SMTulsa about successfully leveraging social media interns to grow an organization's digital presence.
This year's speaker list features a wealth of prestigious experts. In addition to Earnheardt, attendees can look forward to creative insights, best practices, and insider advice from experts such as Jacob Chappell, Vice President of Sales at SOCi; Curtis Midkiff; Sr. Advisor on the Social Business team at Southwest Airlines; Alexandria Williams, the youngest Director on the board of the National Black Marathoners Association; and many others. A full list of speakers can be found at smtulsa.com/speakers.
Conference attendees can expect to receive insightful perspectives on how social media can enhance their productivity and efficiency, as well as digital strategies designed to grow their online influence. In large group and smaller breakout sessions, speakers will coach attendees on a variety of timely topics, such as social listening that wins over customers; social media and the law; managing social chatbots; recruiting top talent through social media; and much more.
"I love how SMTULSA is more than business and networking; it's finding new ways to navigate a saturated media landscape while building the skills and self-confidence to take your social media to the next level," says Meagen Ewton, a digital communications professional and public speaker based near Oklahoma City, and a speaker at this year's gathering.
In addition to the depth of knowledge shared in each session, SMTULSA focuses on connecting businesspeople, artists and entrepreneurs with their peers. Those who attend the SMTULSA Conference enjoy the close-knit, friendly atmosphere, which fosters connections that last long after the conference ends.
"There is nothing like SMTULSA," says Danica Jones, Senior Director of Marketing and Communications at Fabricut, Inc., who will also be speaking at this year's conference. "The conference oozes positivity, collaboration, and basically everything that was truly the core of Web 2.0 culture. You'll walk away enlightened, uplifted and with a new set of friends who are a perfect support system for all things creative," she says.
Registration for the 2018 conference is open at http://www.smtulsa.com/register. The cost is $425 per person ($325 for non-profits and educational organizations), until the conference is sold out. Organizations can also send teams of up to 5 people for the price of 3 (a total of $1,275).
About the SMTULSA Social Business Conference:
The SMTULSA Social Business Conference is a well-known, respected two-day event on digital marketing practices in the U.S. heartland. Local and national speakers gather to offer keynotes, case studies, presentations, breakout sessions, and an abundance of networking opportunities for small business owners, entrepreneurs, bloggers, visual media artists, social media aficionados, and others with an interest in engaging through online methods. The conference is sponsored by Social Media Tulsa, the go-to resource for local businesses and events such as the Center of the Universe Festival, Route 66 Marathon, Scotfest, and others To learn more, visit smtulsa.com.