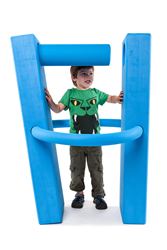 NEW YORK (PRWEB) March 08, 2018
Imagination Playground, LLC, creators of the revolutionary play space concept that encourages child-directed, unstructured free play, announced today it will feature their famed Big Blue Blocks in San Jose as part of the company's 2018 spring Learn & Play Tour.
Imagination Playground's 17-city Learn & Play Tour is part of the company's larger mission to showcase the many benefits of child-directed play. Studies have shown that such play is influential in developing critical skills such math, logic, creativity, social/emotional development, communication, critical thinking and problem solving.
Part of a partnership with several Museum and Science Centers across the nation, the next stop of Imagination Playground's North American spring Learn & Play Tour will take place in San Jose, 1 p.m. to 5 p.m. on March 16, and 10 a.m. to 2 p.m. on March 17, at Children's Discovery Museum of San Jose. The event will bring together children and adults to enjoy free-play with the blocks. Educators and parents also will learn how the blocks can help to unleash creativity and build lasting connections. Educators are eligible to receive teaching credit for their attendance.
In addition, children age 2 to 10 will have the opportunity to submit their creations to Imagination Playground's 2017-2018 Build-A-Thon contest during the San Jose event. Now in its third year, Imagination Playground's Build-A-Thon allows kids to submit photos of their captivating designs by web or through the official Imagination Playground 3D app, available on both iPhone and Android. Children who enter by the March 31 deadline will have the chance to win special prizes, including the chance to meet David Rockwell, the renowned inventor and designer of Imagination Playground, in New York City.
"Known by some as the epicenter of innovation, San Jose is the perfect place to host our equally innovative Big Blue Blocks," said Dave Krishock, President of Imagination Playground. "Be it through classic, child-directed play, or through our Build-A-Thon contest, Imagination Playground allows kids to build off each other's ideas, collaborate and offer constructive feedback to one another."
Imagination Playground is on a mission to transform the lives of children, parents, educators, caregivers, researchers and leaders by uniting them in a community of advocates who believe in the importance of creative free play. Using Imagination Playground's innovative big blue building blocks, kids will create, and collaborate for a fun, inspiring time. They will learn how to work together and how to let their imaginations run wild. Imagination Playground exists to help children take a break from structured and often solitary entertainment and enjoy the freedom of cooperative play.
"We're thrilled to be one of the 17 official stops of Imagination Playground's Learn & Play Tour," said Marilee Jennings, Executive Director of Children's Discovery Museum of San Jose, and past President of the Association of Children's Museums. "San Jose's culture of pushing the boundaries when it comes to everything from communication to technology aligns perfectly with the goals of Imagination Playground. The company's Big Blue Blocks allow children to push the boundaries of their own creativity and self-expression, all while having fun and learning valuable life-long skills."
Children are not the only ones to benefit from Learn & Play. Parents attending the events will also be transformed and encouraged. They will experience nostalgia, but they will also gain a new appreciation for the creativity inherent in all children as they enjoy building and creating structures and creatures with Imagination Playground's big blue blocks. It'll even encourage parents to get down on the floor with their kids, join in on the fun, and get their own lesson in creative problem solving and democratic play.
Imagination Playground creates unique, innovative playground equipment systems for use in schools, children's museums, parks, daycare centers, camps and hospitals. The company's patented blue blocks allow children to create play spaces, animals, robots, rocket ships or any other structure or object that kids can imagine.
The Learn & Play Tour will visit 17 cities in North America, including San Francisco, Seattle, Chicago and New York. Beyond credit, educators will go home with a 70-piece Small Block Sample Pack. And families will receive a pop-out Mini Playground for attending. To RSVP for the San Jose Learn & Play event, please visit https://form.jotform.com/80306874444156. For more information and a schedule of events, visit http://www.imaginationplayground.com/mission/learn-play-tour.html.
Imagination Playground's 2017-2018 Build-A-Thon contest allows kids age 2 to 10 to submit their big blue creations for a chance to win special prizes. Children are encouraged to enter before the March 31, 2018 deadline. For submission guidelines, please visit http://www.imaginationplayground.com/promotions/build-a-thon/index.html.
About Imagination Playground, LLC
Imagination Playground is a breakthrough play space concept developed to encourage child-directed, creative free play. The kind of play that experts say is critical to children's intellectual, social, physical, and emotional development. Invented by architect and designer David Rockwell and the Rockwell group, Imagination Playground enables children to play, dream, build and explore endless possibilities. Imagination Playground finds its home in daycare centers, kindergartens, elementary schools, children's museums – and science, nature, discovery centers, camps, community centers, children's hospitals, hotels and resorts, public parks and more – in North America and over 70 countries around the world. For more information, visit http://www.imaginationplayground.com