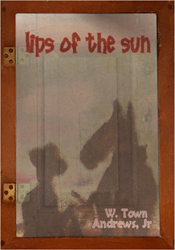 A man herds a cow. A game warden has one.
MALVERN, Pa. (PRWEB) March 09, 2018
This new novel takes the old west for a spin — deep into the 20th Century.
W. Town Andrews, Jr., announces the candidacy of Lips of the Sun, a novel, on the Kindle Scout competitive publishing submission program from Amazon.
Boyd Fedder, a sixty-something loner driving his herd of one, Dozie, across the ranges and basins of the American West, subsisting on nature, wandering among his memories, and, perhaps, searching for the key that unlocks the "Code of the West." He lives in the past, but the present intrudes and wrenches him out of his reverie, forcing him to enlist an unlikely pair of a wild and unfathomable equine (and asinine) characters, to help free Dozie from those who would turn her flanks into london broil, her heart into potted meat product.
Equal parts comic farce, classic western, and throwback fantasy, Lips of the Sun is also a unique example of an essential American story form; the journey of discovery by an idiosyncratic individualist who honors principle over authority.
The nomination page for the entry can be viewed at https://kindlescout.amazon.com/p/3NSUW485AZQAO
Kindle Press is a book publisher within the Amazon Universe. Kindle Scout is the competitive process that Amazon uses to invite authors to participate, with readers, in the selection process. The Scout program involves submission of manuscripts for unpublished novels, and some get published, some don't. But unlike the "slush pile" at your big publishing office, or small independent publisher, or literary agency—a heap of manuscripts which may (or may not) get slowly eroded away by an entry-level editorial/agent assistant—the Scout slush pile gets processed by an audience of interested readers, who eyeball the hopeful author's book cover concept, their one-liner, a 40- or 50-word plot description, and a bio and picture of the author, usually holding up their chins and flaunting that authorial musing quizzical expression found on bookflaps since... whenever books started flapping.
And the Amazon-Scout audience also gets to read and evaluate a selected excerpt of the submitted book. And then they vote for books they'd like to see make it to a bona-fide publishing contract with Amazon.
So Kindle Scout does Slush Pile processing with an element of crowdsourcing.
Anybody who has an Amazon account can participate.
A cowboy herds a cow. A game warden has one.
Review the tagline, blurb, cover, and excerpt here https://kindlescout.amazon.com/p/3NSUW485AZQAO and nominate it if you like it.
About the Author:
A Pennsylvanian, Town Andrews has lived and worked in several western states and the Philippines. He speaks multiple languages, including fluent Spanish and Visayan. Working, reading, parenting, linguistics, history, music and travel have all influenced his storytelling. His career has involved the building trades, agriculture, marine sciences, developmental distilling, theater musicianship, and marketing functional fluids to manufacturers. "I love my work. But for fun, I write these stories."