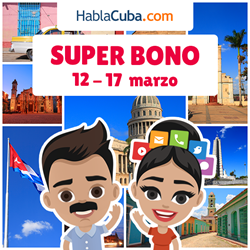 Cuban expats get special bonuses for international top ups sent to Cuba between March 12-17
ATLANTA (PRWEB) March 12, 2018
Some numbers are considered magical, some others are dull and boring. 12 might not seem as mysterious as 7 or as controversial as 13, but this March 12 is definitely unique, because it's the day Cubacel promo starts.
Here is why Cubacel promo starting on March 12 and lasting until March 17 is special:
1. It gives Cubans the opportunity to let their loved ones know they always have their back and they'll always be there when they need them, since Cubacel adds extra credit to all recharges sent to Cuba:
20 CUC - 50 CUC (30 CUC bonus)
25 CUC - 65 CUC (40 CUC bonus)
35 CUC - 75 CUC (40 CUC bonus)
45 CUC – 115 CUC (70 CUC bonus)
65 CUC – 165 CUC (100 CUC bonus)
85 CUC – 215 CUC (130 CUC bonus)
2. It helps Cuban expats save. Since the extra credit is on the house, they can reassign the amount saved to something to indulge themselves. They'll get all the energy needed to spread good mood and be a source of inspiration for the others.
3. It helps their loved ones save… Every dollar matters in Cuba, everybody knows. So by sending top ups to Cuba, they actually give their family and friends a pause from spending they might need. And since telecom services are still expensive in Cuba, their joy and gratitude will be even higher.
4. The promo lasts for six days. People minds work differently. Some of them want to take care of things quickly and move on to what's next on their to do list. Some other are master procrastinators, as Tim Urban says it best and leave everything until the very last day. Or hour. Or minute. To meet all human behaviors, the promotion lasts 6 instead of 5 days.
5. The recipients can use the credit for both national and international calls, SMS, MMS, including SMS entumovil and Data (Nauta).
About HablaCuba.com
HablaCuba.com is an interactive website designed by KeepCalling, a global telecommunications company registered in 2002 in USA. Presently, KeepCalling provides its services to hundreds of thousands of consumers, with a focus on customer satisfaction. KeepCalling has been listed by Inc 5000 as one of the fastest growing companies in the USA for 5 consecutive years. In 2015 the company registered a revenue increase of over 200% from 2011 to 2014.