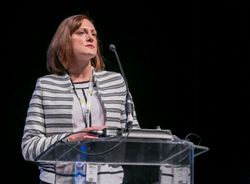 As the recipient of the award last year, I know I am handing off the award to someone who will be a great face for our ecosystem this year - Joey Liner
LAS VEGAS (PRWEB) March 28, 2018
LeadsCouncil, the association responsible for the oversight of ethics and best practices for the performance marketing space, announced the recipients of its 2017 Leader Awards at LeadsCon in Las Vegas on March 6th.
The Leaders Awards promote merit and acknowledge the superior work of leading online lead generators, aggregators and lead technology companies, highlighting esteemed businesses across the industry. This year a total of nearly 2,000 entries/nominations were received for one of the seven awards.
Leader Awards recipients follows:
2017 Excellence in Lead Generation - Lending Tree
2017 Excellence in Call Center Services - BirdDog Media
2017 Excellence in Compliance Services - Jornaya
2017 Excellence in Customer Service (B2B or B2C) - DoublePositive
2017 Excellence in Innovation - Velocify
2017 Excellence in Marketing Services - DoublePositive
Executive of the Year- Melissa - Dream Center Education Holdings
This year marks the first time in the Leader Awards 10 year history that a female executive won Executive of the Year. "I would like to congratulate Melissa for an amazing year. While the education space has had its challenges the last few years, Melissa and her company have shown the determination to do business the right way and rise to the top", said LeadsCouncil President and Chairman of the Board, Joey Liner "As the recipient of the award last year, I know I am handing off the award to someone who will be a great face for our ecosystem this year."
LeadsCouncil congratulates the 2017 winners.
About LeadsCouncil
LeadsCouncil's mission is to maintain a trusted association of vendors, buyers and sellers adhering to industry best practices. We promote and protect the growth of performance marketing through establishing and managing the ethical standards and guidelines regarding online performance marketing through self-regulation, education and government/association advocacy, lobbying on behalf of these members. For more information please visit: https://www.leadscouncil.org/membership/