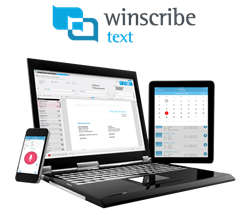 ...Clients can take advantage of new productivity enhancements and system options to make their work processes even faster and more efficient.
AUCKLAND, New Zealand (PRWEB) March 12, 2018
Winscribe has released Winscribe Text version 8.6 (v8.6), the next generation of its unified services platform for Winscribe dictation, transcription, speech recognition, and clinical documentation management solutions. The new platform accelerates document distribution and delivery, and it helps clients meet cost and time management goals through streamlined workflows, improved document accuracy, and increased clinician productivity.
"Winscribe Text has been designed to provide healthcare organizations with a means of creating, managing, and distributing documents. Based on customer input, we have enhanced these methods and developed a solution to further assist our clients unite the major functions of the medical documentation process into an integrated workflow," said Fausto Basso, Director of Software Development at Winscribe. "At the same time, clients can take advantage of new productivity enhancements and system options to make their work processes even faster and more efficient."
Winscribe Text is a software system that can handle all steps in the documentation process – from creation to distribution, and every step in between. The system provides a central platform for managing speech-driven documentation, and it allows managers to easily monitor and manage staff productivity levels, report distribution, quality assurance, and data compliance. In addition, Winscribe Text has a user-friendly interface that can be integrated with other Health Information Systems (e.g., EMRs, PACS/RIS, LIS, PAS, etc.), enabling fast and accurate reporting while reducing data entry duplication and errors.
Key new features available in Winscribe Text v8.6 include:

The ability to forward documents to clinical staff via email directly from within Winscribe Text: A new permissions-based feature enables users the convenience to email documents directly from the application, as part of a restricted end-to-end email exchange policy. This feature gives clinicians a more expedient method for delivering information quickly, while giving administrators control over which email domains may receive sent documents.
Quick approval for batch document distribution: A new "Quick Approval" option in Winscribe Text v8.6 enables transcriptionists and other medical support staff to quickly approve multiple documents that are ready in the distribution queue and issue them simultaneously. This batch operation provides a quicker turnaround of information and less keystrokes and clicks to distribute documents.
Desktop calibration improvements for optimum dictation and hardware management: The Winscribe Text Desktop hardware calibration process has three new features to enhance the user options when setting up their preferences and audio quality of input (dictation) hardware.
To learn more about Winscribe Text and Winscribe's full suite of speech productivity and workflow management solutions, please visit http://www.winscribe.com.