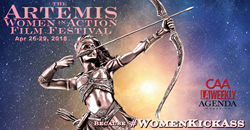 I am absolutely overjoyed by the generous support of our sponsors. It is a truly bold pioneering support of women and women's empowerment. We simply could not be more thrilled. –Melanie Wise, Artemis Women In Action Film Festival Founder
BEVERLY HILLS, Calif. (PRWEB) March 13, 2018
The Artemis Women In Action Film Festival (AWIFF) is delighted to announce its recent partnership with The Creative Artists Agency (CAA) as a lead sponsor for the fourth edition; AWIFF is a film festival that was founded for the purpose of raising awareness of strong female characters in movies and television. Known for their A-list talent, CAA serves as the catalyst to further the movement to feature powerful women on screen and to build an even stronger presence for enthusiastic moviegoers. Sadly, "strong women" are still being grossly underrepresented.
"In today's world, we have a persistent cultural and societal illusion that women are a weaker, inferior sex. Once again, our festival returns to continue eroding this illusion with an edition that resoundingly proves otherwise. Recent events provide a stark view of the power, fortitude, vigor, and determination that is woman, words of which we are being reminded. As women we are relearning, and beginning to understand that words like 'power,' 'determination,' 'strength,' and 'grit' are not only attributable to the male of the species. Every single film we screen is a testament to this fact." –Melanie Wise, Artemis Women in Action Film Festival Founder.
The mission of feminine strength, both of character and physique, is championed by this groundbreaking film festival, which started in 2015. Since this inaugural event, founder Melanie Wise, a stuntwoman and actor, has convinced audiences that physically empowered women in film were not only positive, but popular. Now in its fourth year, Wise continues the tradition of showing a stronger image of women onscreen. The film festival is also pleased to announce sponsorships from LA Weekly and AGENDA magazine.
"I am absolutely overjoyed by the generous support of our sponsors. It is a truly bold pioneering support of women and women's empowerment. We simply could not be more thrilled."—Melanie Wise
With approximately 70 films dedicated to women in action, AWIFF includes narrative features, short films, and a variety of genres, which range from action to drama to documentaries. Some of the festival's outstanding films include the following notable features:
"Stuck" is a dark Comedy by director/actor Jillian Armenante (Judging Amy, Fresh Off the Boat) with cast Joel McHale ("Community," "Great Indoors"), Felicia Day ("Eureka," "Supernatural"), and Heather Matarazzo ("Welcome to the Dollhouse"); "Mary Janes": The Women of Weed is a documentary by multi-award-winning documentarian Wendy Borman, featuring Melissa Etheridge; "Perfume Wars" is based on a true story by best-selling author Barbara Stegemann; Beauty Bites Beast is a documentary with Lisa Long ("Castaway" and "What Women Want"); "5th Passenger," directed and produced by Scotty Baker with cast Doug Jones, Marina Sirtis, and Mindy Robinson is a gothic murder mystery; "Riley Parra" (Marem Hassler, Liz Vassey, Conner Trinneer) is an action, Sci-Fi thriller; and "Living in the Future's Past" is a documentary directed by Susan Kucera, Narrated and Presented by Jeff Bridges, with cast Piers Sellers, and Leonard Mlodinow.
The AWIFF traditionally recognizes stuntwomen who have made a significant impact in film and television. The following are the honorees for 2018.
Alicia Vela-Bailey - Artemis Stunt Icon Award: As a stuntwoman and an actress who portrays dynamic female characters, Alicia's first film as a stunt double had her stepping in for the star of "Bloodrayne" (2015 Artemis Honoree Kristanna Loken). In her second film Ultraviolet, Alicia doubled for Milla Jovovich. She continued to create amazing stunts in television and tent-pole studio actioners—being able to do amazing fight action as well as falls and driving. Alicia has worked in "Agents of S.H.I.E.L.D," "Underworld," and "Wonder Woman." Alicia has just finished her work in the highly anticipated Robert Rodriguez vehicle: "Alita: Battle Angel," and currently in the "Avatar" sequels. As an actor, she plays a recurring role in Marvel's "Agents of S.H.I.E.L.D," "The Purge," "Hostel 3," and "Lights Out."
Heidi Pascoe - Artemis Stunt Warrior Award: A professional high-diver who has performed death-defying stunts throughout her career, Heidi Pascoe has won cliff-diving championships, which segued into a profession of stunt work. She has amassed over 120 credits in films and television, including "Bones," "CSI," and "NCIS." She has won awards from Taurus World Stunt Awards and the Screen Actors Guild. Heidi Pascoe is most famous for doubling Anna Paquin in the popular series "True Blood."
Danielle Burgio - Artemis Stunt Unsung Heroine Award: Danielle Burgio, stuntwoman and actor, has an endless body of work. She has doubled Jennifer Garner, Michelle Monahan, and Carrie Anne Moss (Trinity) in "The Matrix" sequels. Her credits include "Ghost Whisperer," "Angel," "Scandal," "Daredevil," "The Green Hornet"; and she was stunt coordinator for "The Blackout." "My journey in this industry has been a lesson in facing fear and learning the true definition of perseverance, and one that wouldn't be possible without the love and support of my friends, family and peers. Thank you for showing me that grit pays off!" exclaims Danielle Burgio.
Cassandra Ebner - Artemis Stunt Next Wave Award: Ms. Ebner has amassed a huge body of work in a short time. Cassandra does stunts for "Game of Thrones," "Arrow," "The Flash," and "Once Upon a Time." She has also written and directed plays, short films and videos. "As a performer amongst an industry full of many people with amazing talents, I am absolutely honored to be recognized for mine. I grew up watching powerhouse action women and superheroes, hoping I could be as confident, cool, hilarious, and bring an incline of that inspiration to others. To be honored for an award for Stunt Next Wave at a film festival that celebrates empowerment and women in action is a dream come true," states Casandra Ebner.
The Artemis Awards Gala will be held Thursday, April 26, 2018, at the Ahrya Fine Arts Theater at 8556 Wilshire Blvd., Beverly Hills, CA 90211. The Red Carpet begins at 6:00 PM, and the awards presentation begins at 8:00 PM. Screenings take place on Friday, April 27th through Sunday April 29th at the Laemmle Monica Film Center, located at 1332 2nd Street, Santa Monica, CA 90401. For the complete schedule of screenings, visit http://www.artemisfilmfestival.com/2018-festival/2018-schedule/.
The Sponsors:
About Creative Artists Agency (CAA)
Leading entertainment and sports agency Creative Artists Agency (CAA) represents many of the most successful professionals working in film, television, music, theatre, video games, sports, and digital content, and provides a range of strategic marketing and consulting services to corporate clients. CAA is also a leader in sports, representing more than 1,000 of the world's top athletes in football, baseball, basketball, hockey, soccer, tennis, Olympics and action sports, and golf, and works in the areas of broadcast rights, corporate marketing initiatives, licensing, and sports properties for sales and sponsorship opportunities.
About LA Weekly
L.A. Weekly, and more recently laweekly.com, has Los Angeles covered with investigative reporting, comprehensive calendar listings and forward-thinking cultural coverage, including daily blogs that cover the city's cultural scenes. We keep our readers loyal with stories by some of the country's finest writers—now accessible through our mobile platforms. L.A. Weekly has won more awards from the Association of Alternative Newsweeklies than any other paper in the country, and in 2007 was the first newspaper to be awarded the Pulitzer Prize for its food criticism via food critic extraordinaire Jonathan Gold.
About AGENDA Magazine
AGENDA aka agendamag.com is a fashion/lifestyle magazine, founded in 2004, and was exclusively online until October 2014, when the first special edition print issue was published. Agenda is documented as being the first online magazine to present streaming video content, which showcased fashion runway from Los Angeles and New York; Also a pioneer for professionally produced documentary-style interviews with fashion-related topics online, AGENDA is also available in print monthly, worldwide. The magazine is translated in 48 languages, with approximately 200,000 articles translated worldwide every month. AGENDA covers fashion runway and editorials, interviews, book reviews, beauty, fitness, entertainment, social commentary.