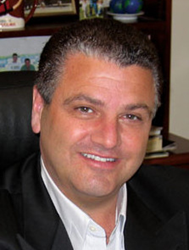 There has never been a time when consumers and businesses were so united in their desire to protect and enhance the environment.
SYOSSET, N.Y. (PRWEB) April 04, 2018
Emerald Brand, maker of everyday products that are sustainable, rapidly renewable, and environmentally responsible, announced the winners of its Fifth Annual Emerald Brand Sustainability Awards. Each year, the company recognizes its clients who have gone above and beyond in their efforts to implement sustainability programs through the use of Emerald Brand's Tree-Free™, compostable, and BPA free products and Emerald Ecovations' environmental programs.
Southern Refreshment Services delivers solutions in office coffee services, micro-markets and pantry services to many of Atlanta's top corporations, universities, hospitals, and more. By converting to Emerald Brand's sustainability program, Southern Refreshments saved a total of 152 trees, 3,247 pounds of plastic, and 37,954 gallons of water.
"There has never been a time when consumers and businesses were so united in their desire to protect and enhance the environment. Southern Refreshment Services is a recognized innovator in their field and they share our vision of what clean, sustainable and environmentally sound products and practices should be," commented Ralph Bianculli, CEO. "Their commitment to environmental action is evident in every aspect of their business – it's been a privilege to be part of that."
Southern Refreshment Services partnered with Emerald Brand to become Atlanta's #1 provider of eco-friendly paper products for pantry, food-service and micro-market operations.
"We were all delighted to be recognized for our sustainability initiatives and our commitment to protecting the environment. Working with Emerald has allowed us to deliver truly sustainable products that not only protect the environment, but enhance the wellbeing of the customers we serve," said David Carroll, VP of OCS Operations at Southern Refreshment Services.
Southern Refreshment Services maintains a strict recycling program in its warehouse and is constantly upgrading the efficiency of the vehicles in its fleet. All of its machines are Energy Star rated, and all vending machines use LED lighting.
About Emerald Brand:
Family owned and operated since 1997, Emerald Brand produces everyday disposable products made from sustainable, alternative materials at affordable prices. Committed to sustainable and rapidly renewable solutions, Emerald Brand's innovations in Tree-Free™ technology and petroleum free plastics are revolutionizing packaging and disposables worldwide. Emerald Brand's growing suite of 250+ sustainable finished products offers the workplace a healthier and more sustainable environment.
In 2017 Emerald Brand's products and programs saved 19,589 trees, 748,047 pounds of plastic and 5,392,089 gallons of water.
Emerald Brand's corporate solutions include educational forums, measurable environmental impact statements, and consulting services that are at the forefront of future movements in composting and recycling. Emerald Brand, in conjunction with Emerald Ecovations Material Technology Group, will continue to innovate Emerald Brand's growing lineup of finished goods and retail packaging materials. The company's mission statement "Farm to Tissue, Made in the USA" is on track to revolutionize the entire industry.
Products are available for consumer purchase at http://www.emeraldbrand.com and for businesses at http://www.paradigm-grp.com
About Southern Refreshment Services:
Southern Refreshment is a privately-held company founded in 1979, the founders built a thriving business with a focus on providing high-quality products with exceptional service. In 2001, we acquired partnership with Compass, which provides us with national recognition and global purchasing power as a member of the Canteen Franchise Group. Southern Refreshment Services is an award-winning company that values strong relationships with our business partners, employees, and customers. Our sister company, Vend Food Services, provides services that mirrors Southern Refreshment Services and additionally operates on-site business dining and catering services throughout Northeast Georgia.
Southern Refreshment Services, Tucker, GA http://www.refreshthesouth.com