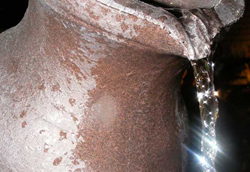 I once interviewed a spiritual healer who told me something that I too find to be what motivates me: 'It's not Gene that wants to get out there — it's the message Gene has.'
LOS ANGELES (PRWEB) March 12, 2018
The unusual events in the life of Mark Russell Bell encompass what he calls 'The Michael Pattern' and 'The Bell Pattern' that noticeably interlink famous cases of documented paranormal phenomena. Bell reiterates in his most recent blog article "Of Prophecies and Patterns" how the Nostradamus prophecy mentioning the year 1999 'came true' in July of that year.
Bell comments about these circumstances: "This is a gift of Spirit. What happened involves incidents that can be understood as an intellectual exercise."
More than 400 articles presenting information that can expand people's spiritual and metaphysical understanding are available to be read at the blog "Metaphysical Articles: Interesting Articles, Links and Other Media" (see https://testament.org).
Bell's unexpected path of spiritual discovery accelerated during 1995 when he traveled to rural Oklahoma to investigate a 'talking poltergeist' haunting. Since then, he has been researching and reporting about documented cases of so-called unexplained phenomena. He explains: "Reading about these cases, one understands how experiencers are compelled to share the knowledge gained from their individual initiations. On Earth each person's comfort and well-being is dependent in countless ways on the efforts of countless other people. Humanity's spiritual Oneness is a momentous aspect of reality. I once interviewed a spiritual healer who told me something that I too find to be what motivates me: 'It's not Gene that wants to get out there — it's the message Gene has.'"
Bell began blogging in 2009. His experiences include attending channeling sessions of JZ Knight and Kevin Ryerson. He regards 'channeling' and 'spiritual healing' as "a renewed manner of spiritual dispensation" for the New Age of Aquarius.
Regarding Edgar Cayce's 'Ra-Ta' prophecy mentioning 1998, that year Bell wrote in an introductory statement to the Internet edition of "Testament": "In July 1932, Edgar Cayce predicted that the ancient Egyptian priest he called Ra-Ta ('Sun-Earth') would return to the world in 1998. Testament is a case study showing how I became aware of my earlier incarnation."
During the incidents chronicled in "Testament", Mark Russell Bell was confronted with the realization of his soul having apparently previously manifested in an ancient incarnation as 'Bel-Marduk.' He found at an antique store near his home a replica of an ancient Egyptian medallion showing a profile of someone who looked just like him. One of the articles at Bell's blog reports how the expression 'Ra-Ta' is found to be at times a metaphorical designation in Edgar Cayce channeled reading transcripts.
Prior to Bell becoming an author, he worked in the Hollywood entertainment industry as a publicity writer at Paramount Pictures and before that was a talent agent. He has written about his unusual predicament in such blog articles as "Leaving The Mountain: Information Conflicting with Perceived Consensus Beliefs Engenders Expectation of Disapproval" and "Beyond 'Talking Poltergeists' and 'The Nine Pattern'" (etc.).
Series of articles presented at Bell's blog offer case profiles of such famous 'paranormal people' as Jane Roberts (channeler of 'Seth'), Eileen Garrett (a psychic and trance medium), Leslie Flint (a Direct Voice medium), John of God (a spiritual healer/channeler), John Dee (whose diaries chronicle communication with 'spiritual creatures' and 'good angels'), and Helena Petrovna Blavatsky (author).
Recent blog articles include "Life and the Afterlife Explained from the Other Side" and "Five Videos for People Who Don't Yet Know about Authentic 'Channeling.'"
A link to Bell's blog may be found at his website https://testament.org