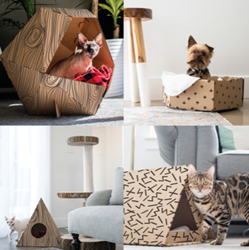 Boxie is updated and fresh, I think all things pet should reflect the coolness and diversity of their owners.
PROVO, Utah (PRWEB) March 12, 2018
Boxie Pet Homes, the creative new DIY cardboard solution thinking out of the box for pet homes, is live on global crowdfunding platform Kickstarter and raising funds to bring the project to life.
Boxie is a cardboard box that transforms into a home, a hiding place, a bed and a toy and anything else a pet might need including security and comfort. Inspired by traditional origami, Boxie utilizes the surprisingly sturdy material which can be crafted into 5 different functional and sturdy shapes, for cats and dogs alike.
"We love our pets, each are important members of our family. When we brought our first kitten home, we wanted to find something inexpensive and unique for our pets that matched our aesthetic, nothing was out there so we made it ourselves," says founder Lex Losee. "Boxie is updated and fresh, I think all things pet should reflect the coolness and diversity of their owners."
Boxie Pet Homes are fun to create and bring a creative and modern look to the house. With three different patterns, there's a design to match every owner and their pet's personality. The DIY experience is simple and fun, and the finished product looks good and stands strong.
Boxie Pet Homes are not only great to look at, but scientifically backed to help cats by providing comfort and solitude, nurturing an insulating environment, and allowing for a safe and secure space to escape the busy world. This all helps decrease stress and foster a more social and loving animal.
"We knew cats loved boxes, but after researching why, we realized there was a real benefit to them having their own space," adds Mikey Muirhead, Creative. "Cats crave the security of enclosed spaces, need warmth and comfort and their own space to retreat to. The same goes for dogs and other small animals."
Boxie Pet Homes are currently live and available to support on Kickstarter: http://kck.st/2FDSk3u
About Boxie Pet Homes
Boxie Pet Homes LLC, founded in 2017, is a partner owned company based in Provo, Utah. With a collective of 25+ years of experience in product design, sales, and marketing. Co-founders Lex Losee and Mikey Muirhead are on a mission to bring some originality to the pet industry one box at a time.
For more information on Boxie Pet Homes please visit https://www.boxiepethomes.com