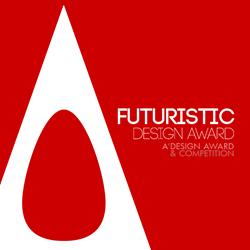 A' Design Award and Competition
COMO, ITALY (PRWEB) March 12, 2018
Every year, the A' Futuristic Design Award is organized by A' Design Awards and Competition in pursuit of recognizing excellent futuristic designs from futurists, design Pioneers, trailblazers, avant-garde designers, ground-breakers, trend-setters, creators and innovators worldwide, that were completed within the last 10 years. The A' Futuristic Design Award Competition features a reputable jury panel of specialist in futuristic design to evaluate projects submitted to A' Design Award.
First phase of the A' Futuristic Design Award Competition is the preliminary round where talented designers, companies and brands submit their design works for preliminary evaluation. Futuristic design projects such as future products, future gadgets, future services, future cities and conceptual futuristic designs, that have received a high preliminary score in the preliminaries could proceed with nomination. Although, the registration and submitting a design for the preliminaries is free of charge, there is a fee for final nomination.
Deadline for late submissions is on March 15, 2018 and all futuristic design project should be submitted by this date, however further modifications could be made within seven days of entry. Results of the competition will be released on April 15, 2018 through a wide network media partners.
About the A' Design Award and Competition
The A' Design Award and Competition has been established to promote the best design works form across the globe by innovative designers, companies and corporations. Hence the main purpose of the A' Design Award and Competition is to create a worldwide awareness and understanding for good design, yearly organized A' Design Award aims at pushing designers, companies and brands worldwide to create a superior design projects that would benefit society and create a social impacts. To learn more about the A' Design Awards and the A' Futuristic Design Awards, please visit http://www.designaward.com