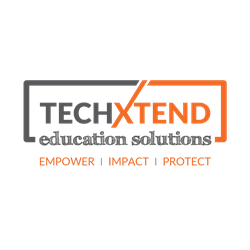 DisruptED TV proudly accepted the invitation to partner with TechXtend. The core values of this technology company fit into the core vision and mission statement of DisruptED TV.
EATONTOWN, N.J. (PRWEB) March 12, 2018
TechXtend, Inc., a leading education solutions provider that focuses on a core portfolio of impact technologies in the areas of assistive technology for ASD learners, character development, curriculum development, school safety, STEM and other educational hardware and software products, announced today a partnership with DisruptED TV.
Under this agreement between these two innovative companies, TechXtend will be the national exclusive technology partner for DisruptED TV. At the forefront of this partnership is the TechXtend relationship with Robokind, the creator of Milo, a 21st Century robot that engages the autistic student in the teaching and learning process. Soon to be released are the episodes of DisruptED TV featuring an engaging discussion with Dr. Gregory Firn, COO of Robokind and Mr. Kevin Askew, Vice President & General Manager of TechXtend. Future DisruptED TV episodes will include interviews with educational change-agents from leading edge technology partners such as Robokind, Evolution Labs, STOPit, Navigate Prepared, SysCloud, Teacherplanbook, and Drawp.
Filmed in a talk show format, DisruptED TV engages the guests in an intelligent, thoughtful, and informative discourse. At the heart of each episode is the belief that the status quo of the traditional classroom can be disrupted. These disruptions will lead to greater student engagement, learning, and innovative teacher practices. Guest teachers and leaders in these "silos" of education will have an international audience to share educational, teaching and leadership best practices.
"DisruptED TV proudly accepted the invitation to partner with TechXtend. The core values of this technology company fit into the core vision and mission statement of DisruptED TV. The partnership was sealed by the drive and commitment of TechXtend Vice President and General Manager, Kevin Askew, who is passionately driven to have an impact and make a difference in the education space," stated Richard Allen, Executive Director of Education, DisruptED TV.
"I am thrilled to announce this partnership with DisruptED TV. Their focus on disrupting the status quo in education to bring forth innovative and impactful solutions aligns precisely with the focus of our education solutions team. We are so humbled and appreciative for the opportunity to work with the DisruptED TV team as well as the thought leaders that comprise our core portfolio of impact technology partners," added Kevin Askew, Vice President and General Manager, TechXtend.
ABOUT TECHXTEND, INC.
TechXtend is a leading IT solutions provider. Our education division is focused on technology that empowers, impacts and protects. Our core portfolio is built on a range of impact technologies that make a difference in people's lives. Our solutions address and help solve issues in the areas of Safety & Security, Social & Emotional Learning, Character Development, Restorative Justice, Curriculum Development, Assistive Technology and STEM. TechXtend is a subsidiary of Wayside Technology Group, Inc. (NASDAQ: WSTG). For additional information, visit http://www.techxtend.com, or call +1.800.599.4388, or +1.732.389.8950. In Canada, call +1.888.423.2700. Follow us on Twitter (@TechXtendEDU), Facebook and LinkedIn.
ABOUT DISRUPTED TV
DisruptED TV is an education technology company focused on providing free and on-demand professional development via video content distributed over multiple channels and through social media. In addition to these venues, professional development is provided through webinars, conferences, and via video content created by subject matter experts (SME).
Contacts:
Media Relations
TechXtend, Inc.
media@waysidetechnology.com
https://twitter.com/techxtendedu
https://www.facebook.com/TechXtend/
Media Relations
DisruptED TV
media@disrupt-edtv.com
TechXtend, Inc. is a registered trademark of TechXtend in the US and other countries. All other company names or product names may be the trademarks of their respective owners.