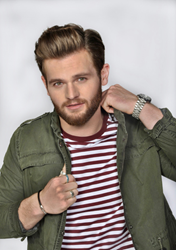 I wanted to create the perfect summer song for 2018, something everyone could groove to, and we have it
NASHVILLE, Tenn. (PRWEB) March 13, 2018
Singer-songwriter Brandon Bonine announced the release of his upcoming new single Only with You for Tuesday, March 20th. This is the troubadour's third single in anticipation of his much talked about upcoming debut album WARRANTED WORRIES coming this Spring.
"I'm super excited about my release of 'Only with You'," says newcomer Brandon Bonine. "I wanted to create the perfect summer song for 2018, something everyone could groove to, and we have it. This is the perfect track to tease my debut album and what is to come!"
Brandon's soulful and raw acoustic sound often draws comparisons with John Mayer. He has studied under Pat Metheny, and proudly finds musical inspiration from Townes Van Zandt, John Mayer, Stevie Ray Vaughn – as well as Metheny. His jazz/blues/rock infused Americana style has similarities with the Avett Brothers.
The music video for Brandon's first single Remember My Name (directed by Diego Cruz of Detroit) from the upcoming debut album was recently nominated for Country Music Video of the Year at the Midwestern Music Video Awards and best Male Indie Music Video by LA Music Critic. Brandon worked with well-known Director Diego Cruz again on the new music video for Only with You creating a beautiful visual story for the sexy song.
Brandon is establishing himself as one of Detroit's top indie jazz guitarists performing house concerts & gigs as well as building a following as a songwriter - even collaborating with YOUNG RJ of Slum Village (J Dilla, 50 Cent).
The new single "Only with You" was recorded at Big Sky Recording Studio, and was written and produced by Brandon Bonine. The new single will be available March 20th from Midwestern Heartbreak Records via iTunes, Spotify, and Amazon.
Upcoming Tour Dates – Brandon Bonine
May 5 – Ann Arbor, MI – The Ark – Album Release Party
Weblinks: http://www.BrandonBonine.com/ http://www.facebook.com/brandonbonine/
http://www.twitter.com/brandonbonine/ http://www.instagram.com/theofficialbrandonbonine/
http://www.soundcloud.com/brandonbonine
About Brandon Bonine
Born and raised in the shadow of the Motor City, Brandon Bonine found music early on in life. Probably first hearing Teddy Pendergrass and Aaron Copland in his diaper, it was hard for him not to feel the infectious groove. First picking up the guitar at the age of 11, he spent hours learning from the jazz cats of his dad's record collection, idolizing the poster of Slash on his wall. He was rejected from music school, but that didn't stop him. Throughout college he divided his time between jazz gigs and DJing parties, often trading meals to build up his record and coffee collection. He finds inspiration from Pat Metheny, whom he's studied under, Townes Van Zandt, John Mayer, and Stevie Ray Vaughn. After college he hooked up with YOUNG RJ of Slum Village(J Dilla, 50 Cent) and began crafting his next body of work. Halfway inspired by his life events and trying to capture that feeling of driving on a dirt road after having one too many espressos. To capture the vibe he was headed for, he teamed up with RJ RICE (producer; Poe, Pet Shop Boys) and formed a band with DANA DAVIS (Aretha Franklin, Byron Cage) and CHRISTON MASON (TLC, Phillip Phillips). Go hit those like buttons and hop on the groovy train, with a little bit of good Midwestern heartbreak. Stay up to date with Brandon at BrandonBonine.com
###
Suggested Tweet:
NEWS! @BrandonBonine to release new single #OnlywithYou 3/20 @itunes @amazonmusic @Spotify – in anticipation of debut album coming this Spring! http://www.BrandonBonine.com