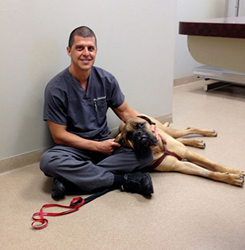 Dr. Christiansen is experienced in identifying good candidates for stem cell therapy and has been providing VetStem Regenerative Cell Therapy to his patients since 2012.
POWAY, Calif. (PRWEB) April 10, 2018
Leading regenerative veterinary medicine company, VetStem Biopharma, is proud to announce that another veterinarian has joined the centennial club, having provided over 100 of his veterinary patients with VetStem Cell Services. Dr. Jeff Christiansen, DVM, DACVS of Superior Veterinary Surgical Solutions joins several other VetStem centennial club members, all of which have embraced this cutting edge technology to provide the highest level of patient care.
Dr. Christiansen is experienced in identifying good candidates for stem cell therapy and has been providing VetStem Regenerative Cell Therapy to his patients since 2012. The process begins with a fatty tissue collection from the patient. The tissue is shipped overnight to VetStem's laboratory in Poway, California where laboratory technicians process the tissue and extract the stem cells. Injectable stem cell doses are then sent back out overnight to the treating veterinarian where the patient receives injections of their own stem cells 48 hours after the initial fat collection.
Stem cells are regenerative cells that can differentiate into many tissue types; they have been shown to reduce pain and inflammation, help to restore range of motion, and stimulate regeneration of tendon, ligament and joint tissues. VetStem published the First Peer Reviewed Randomized Blinded Multicenter Controlled Study for Chronic Osteoarthritis of the Hip Joint in Dogs and the First Peer Reviewed Multicenter Clinical Study in Chronic Osteoarthritis of the Elbow Joint in Dogs. In both, it was found that regenerative cell therapy decreased lameness and increased range of motion.
While Dr. Christiansen is a small animal veterinarian, VetStem Cell Therapy can be an effective treatment option for horses as well. In a clinical case series using VetStem Regenerative Cell Therapy in horses with tendon and ligament and joint injuries it was found that regenerative cell therapy (adipose-derived stem cells) allowed horses to return to full work or to the activity level that the owner desired.
About Dr. Jeff Christiansen, DVM, DACVS
After receiving his Bachelor of Science degree in Animal Bioscience from the Pennsylvania State University in 1992, Dr. Christiansen gained his Doctor of Veterinary Medicine in 1996 from the University of Tennessee College of Veterinary Medicine (where he met his wife, fellow veterinarian Wendy Christiansen). He then completed a rotating internship in medicine and surgery at New York City's Animal Medical Center in 1997, after which he both established and was the first to complete the surgical internship program at Houston, Texas' Gulf Coast Veterinary Specialists. Dr. Christiansen completed his surgical residency at the Veterinary Hospital of University of Pennsylvania in 2001, after which he became a Diplomate of the American College of Veterinary Surgeons in 2002. Dr. Christiansen has practiced in Brevard County since January 2006, and runs Superior Veterinary Surgical (and less-invasive) Solutions, bringing board-certified specialist quality care -- as well as innovative and cutting-edge options -- to owners in a more convenient and affordable fashion.
About VetStem Biopharma, Inc.
VetStem Biopharma is a veterinarian-lead Company that was formed in 2002 to bring regenerative medicine to the profession. This privately held biopharmaceutical enterprise, based near San Diego (California), currently offers veterinarians an autologous stem cell processing service (from patients' own fat tissue) among other regenerative modalities. With a unique expertise acquired over the past 15 years and over 13,000 patients treated, VetStem has made regenerative medicine applications a therapeutic reality beyond the realm of research. The VetStem team is focused on developing new clinically practical and affordable veterinary solutions that leverage the natural restorative abilities present in all living creatures. The Company's stated mission being "to extend and enhance the lives of animals by improving the quality of recovery in acute conditions, but also by unlocking ways to slow, stop and ultimately revert the course of chronic diseases". In addition to its' own portfolio of patents, VetStem holds exclusive global veterinary licenses to a portfolio of over 70 issued patents in the field of regenerative medicine.