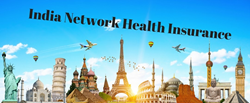 India Network Offers Plans for all ages upto 99 years covering pre-existing conditions. Every parent visiting USA should take advantage of the visitor plans
ORLANDO, Fla. (PRWEB) March 13, 2018
India Network Foundation is pleased to announce visitor health insurance programs and plan options for senior visitors coming to the USA in 2018. India Network Foundation is a non-profit organization with more than 30 years of experience in helping foreign visitors to the United States through sponsorship of various visitor health insurance plans. The visitor medical insurance plans offer affordable health insurance for all age groups of visitors (0 - 99 years old) irrespective of their health conditions. Coverage is available for pre-existing conditions through American insurance companies and all claim processing is carried out in the United States. Every year, thousands of families benefit from India Network Visitor Health Insurance plans that facilitate visits from parents and grandparents from around the world to the USA.
It is very difficult to find a suitable visitor health insurance plan for visitors over 65 years old. Life Expectancy in India is about 68 years making many insurance companies nervous in offering any health insurance cover for visitors traveling from India. India Network Foundation is pleased to step in and provide coverage for all ages up to 99 years. The senior coverage offered include accident and sickness coverage in addition to covering pre-existing conditions such as diabetes, blood pressure, etc. Two kinds of plans are available - fixed benefit plan and a comprehensive plan. More information on the plans and premiums can be found at https://www.kvrao.org
"India Network Visitor Health Insurance advises every parent coming to USA for family reunion, spend time with grandchildren, tourism, or vacation to take advantage of cost effective and reliable health insurance that covers pre-existing conditions such as CHUBB Network, CHUBB Premier and AXIS plans. Recent analysis of claims data shows that majority of high volume and high dollar value claims are originating from pre-existing conditions. An insurance policy without pre-existing coverage is limited to accidents and new problems and is often no use to elderly parents.
Dr. KV Rao, Founder and President said that "pre-existing coverage definition vary across plans, some limiting pre-existing coverage to acute onset, which is not really useful to visitors from India. India Network plans are the only ones in the US that cover pre-existing and new problems in the same way and assure peace of mind".
About India Network Foundation
India Network Foundation, established as a US non-profit organization, has been helping the Asian Indian community in North America with programs and grants to academics from India for more than two decades. India Network Foundation sponsors visitor health insurance to tourists, students, temporary workers (H1 visa holders) and their families. All insurance products are administered by India Network Services.
For more information please visit http://www.indianetwork.org
About India Network Health Insurance
India Network Services is a US-based company that administers visitor health insurance to tourists, students, temporary workers and their families. Visitor medical plans are offered for all age groups with both fixed coverage, comprehensive coverage and with pre-existing condition coverage.
For more information please visit https://www.kvrao.org