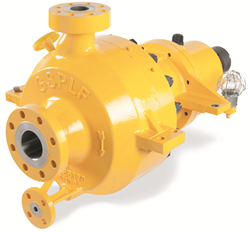 The GSPLF OH2 pump brings efficiency, safety and reliability to environmentally-conscious plant operators in the chemical and hydrocarbon processing industries.
ARVADA, Colo. (PRWEB) March 13, 2018
Sundyne, a global leader in the design and manufacture of pumps and compressors today announced enhancements to its GSPLF (Low Flow) OH2 sealless pumps which are designed for applications requiring low flow and high head in the oil and gas production, chemical, petrochemical and refining industries.
The GSPLF OH2 sealless magnetic drive pumps feature an open impeller, Barske wheel design with straight blades and a tapered conical diffuser, which produces efficient performance at low flows. Extensive testing has demonstrated how the combination of the impeller design and Sundyne's proven HMD Kontro sealless magnetic drive pumps produce pressures considerably higher than traditional back-swept Francis Vane impellers.
The latest GSPLF sealless magnetic drive pumps efficiently handle flows from 18 to 132 gpm (4 to 30 m3/hr), and deliver head pressures up to 490 ft (150m). Temperature ranges have been widened to accommodate -40 to 500 F (-40 to 260 C), and standard design pressure can handle up to 580 psi (40 Bar).
The GSPLF OH2 pump meets the requirements of API 685 and has full ATEX compliance, bringing efficiency, safety and reliability to environmentally-conscious plant operators in the chemical and hydrocarbon processing applications.
"With more than 25 years' experience in API applications and a 70 year track record in magnetic drive technology, Sundyne's HMD Kontro brand was the first company to ever develop a magnetic drive sealless pump, and we're leveraging this experience to fill a gap in the market for a high-efficiency, low flow magnetic drive centrifugal pump with a single stage high-head capability," said David Clark, general manager, Sundyne HMD Kontro.
For further information, including a copy of the GSPLF brochure, please visit: http://www.sundyne.com/hmdkontro.
About Sundyne:
Headquartered in Arvada, Colorado, Sundyne is a leading manufacturer of highly reliable and efficient centrifugal pumps and compressors for use in oil and gas production, refining, chemical, petro-chemical, power generation and water processing industries. Sundyne is the world leader in delivering low-flow, high-head integrally geared centrifugal pumps and compressors; as well as safe and efficient sealless magnetic drive pumps. Sundyne pumps and compressors meet stringent API and ISO standards. To learn more about the Sundyne family of precision engineered pumps and compressors, please visit http://www.sundyne.com. Sundyne is owned and operated by Accudyne Industries.
About Accudyne Industries:
Accudyne Industries is a global provider of precision-engineered flow control and compressor systems responsible for powering the world's most economically vital industries. These process-critical machines deliver unflagging performance in incredibly demanding environments, giving confidence to the mission of their customers. Today, Accudyne is powered by more than 2,800 employees at 13 manufacturing facilities. For more information, visit http://www.accudyneindustries.com.