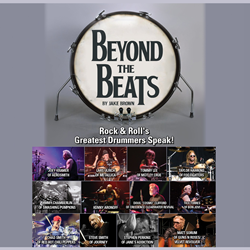 "I just consider myself very lucky, quite frankly, to be in the company of the drummers in this book." —Doug "Cosmo" Clifford, Creedence Clearwater Revival
ASHLAND, Ore. (PRWEB) March 13, 2018
A new book hitting shelves and kindles in April features exclusive interviews with the superstar drummers from the biggest bands in Rock and Metal, including Lars Ulrich of METALLICA, Joey Kramer of AEROSMITH, Tommy Lee of MÖTLEY CRÜE, Taylor Hawkins of the FOO FIGHTERS, Chad Smith of the RED HOT CHILI PEPPERS, Doug 'Cosmo' Clifford of CREEDENCE CLEARWATER REVIVAL, Tico Torres of BON JOVI, Matt Sorum of GUNS N ROSES/VELVET REVOLVER, Jimmy Chamberlin of THE SMASHING PUMPKINS, Kenny Aronoff of JOHN MELLENCAMP/JOHN FOGERTY, Stephen Perkins of JANE'S ADDICTION and Steve Smith of JOURNEY telling their stories to fans first hand and in-depth for the first time!
In the pages of BEYOND THE BEATS: Rock & Roll's Greatest Drummers Speak! (Baker & Taylor, ISBN-10: 0983471657 ISBN-13: 978-0983471653), these legendary gods of thunder talk in detail to award-winning music biographer Jake Brown about who first put the sticks in their hands and sat them down behind the kit as kids all the way to their banging away behind the drums live playing before arenas and stadiums full of screaming fans. Along the way, the inspiration behind their most famous beats is broken down, from Lars Ulrich walking fans back through the epic break-down in One to what gave Joey Kramer the idea for Walk This Way's instantly addictive percussion introduction, Journey's Steve Smith on the studio creation of Don't Stop Believin', and Tico Torres recounting the glory day of Bon Jovi recording the legendary anthem Livin' On a Prayer. Tommy Lee takes fans upside down inside his first-of-its-kind roller coaster drum set live, while Classic Rock fans are taken back to the '60s and inside the recording of Creedence Clearwater Revival's Proud Mary by Doug "Cosmo" Clifford; Kenny Aronoff talk about taking his shot at the big time, powering upHurts So Good for John Mellencamp in a 100 degree shack in Indiana back in 1981!
A holy grail for rock and metal drummers of any generation, this book features the stories behind hundreds of their favorite beats, whether the reader is a fan streaming his favorite hits by each band while reading along to how they were created in the studio or a young drummer learning how to play each song by these superstar hitters. Beyond the Beats gives a real look behind the kit at the power and pain it takes to stay on top for decades. Excerpts include:
"I can't even tell you how much time I spent with headphones on just wailing through my favorite stuff, because you can sit there and take lessons all day long and get technicallyschooled, but there's something really different about playing along and emulating some of your favorite drummers."
Tommy Lee, Mötley Crüe
"To me, playing live is like sports. When you're over 35, you move into a different league, and when you're over 45, you're a senior. It's not like if you're over 45, you get a pass, and you can start playing at a different level of intensity. You've got to bring it the same every night!"
-Lars Ulrich, Metallica
"I think that less-is-more is probably, or should be, in my opinion, the golden rule for all drummers. In particular, the best example I can cite is John Bonham, because there were places where he didn't play, and those places that he didn't play – if you listen throughout his catalog – they really stand out for me. Instead of what the typical drummer would do, I think that's very important, and I think that a lot of drummers never realize that."
-Joey Kramer, Aerosmith
"My parents weren't about to run out and buy little Johnny a drum set! They were very supportive, but at first, they were like a little wary to see where I was gonna go with this hitting thing, so my dad went to the garbage in the back of the local Baskin Robbins in the local town I lived in at the time, Birmingham, Michigan. He took a few thrown-out ice cream tubs and I used Lincoln Log kid's toys for drum sticks. I started out with only the finest equipment at 6, 7 years old."
-Chad Smith, Red Hot Chili Peppers
"It's not a cliché, there's a real energy exchange and that's what I love about people air-drumming. Those moments are just as important as a guitar riff or vocal scream and so I really love that moment, it's a full-circle moment."
-Stephen Perkins, Jane's Addiction
"When we were developing 'Don't Stop Believin', I started trying some of those ideas as a counter-point to what was going on melodically and rhythmically with the chords and guitar riffs, and basically I went home after some of our rehearsals, and worked out all of my more complex drum parts - that was my process. They really featured that drum beat in the mix, and I think it's because it's a pretty big signature part of the song."
-Steve Smith, Journey
"I was scared sh#tless playing Wembley Stadium, I'm scared sh#tless every time man, because when you walk onto that stage and all those people are there,something about that place is like an optical illusion!There's literally thousands of people at all times surrounding you, and it's strange man, it's a strange trip. It's hard not to let your adrenaline and all that other stuff kind of get ahold of you, and you generally don't play quite as well when you're too excited. There's a fine line between having a lot of energy and being too excited."
-Taylor Hawkins, Foo Fighters
Hard Cover and Paperback have a publication date of March 13, 2018 and will be available on April 25th as an ebook from Baker & Taylor; BEYOND THE BEATS will also have an audiobook release by Blackstone Audio May 15, 2018 containing loads of bonus content, including exclusive audio excerpts from each of the drummers interviewed in the book. Yamaha will publish the book in Japan later this year.
Follow updates on the book's release and free bonus features at Twitter.com/BeyondtheBeats1.
For Review/Interview-Exclusive Audio Excerpts/Radio Give-Away Requests, please contact
Jo-Ann Geffen at jgeffen(at)jagpr(dot)com or (818) 905-5511.