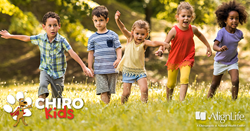 PEORIA, Ill. (PRWEB) March 14, 2018
Chiropractic at its core is about helping the body maintain or return to a healthy state of existence. One of the most precious commodities that need protecting and nurturing are children. Twice a year, AlignLife - Chiropractic & Natural Health Center strives to combine the two by running Chiro Kids Month. Participating clinics will offer a complimentary kids consult and exam during the month of March. During a child's development, regular chiropractic care can provide a plethora of benefits that many do not realize. It can improve attention span, memory, athletic performance, and optimizes spinal health. Children, accompanied by an adult, can receive their checkup at any of the following locations:
Warsaw, IN
Beech Grove, IN
Peoria, IL
North Peoria, IL
Springfield, IL
East Stroudsburg, PA
West Union, SC
Cherrydale, SC
Simpsonville, SC
Downtown Greenville, SC
Greenville, SC
Spartanburg East, SC
Norton Shores, MI
Wauwatosa, WI
ABOUT ALIGNLIFE:
AlignLife is a chiropractic and natural health franchise founded in 2007 with the mission to provide the highest quality of natural healthcare services to communities around the nation. The integration of chiropractic with other natural health services has proven to save time and money while reducing the hassles of dealing with the complex American health care system. For more information or to find a clinic new you go to AlignLife.com.