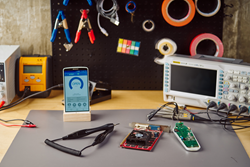 "With Vion, we really wanted to demonstrate how simple and easy-to-use multimeters can be. The multimeters of the past are bulky and complicated. By making Vion accessible to the public, we believe we are improving how people diagnose and fix electrical problems," said CEO Yong Man Kim.
NEWPORT BEACH, Calif. (PRWEB) March 14, 2018
Yesterday, Allectrics, Inc. launched Vion, The World's Simplest Multimeter on the crowdfunding platform Kickstarter. With months of preparation and development, Founder and CEO Yong Man Kim aims to mass produce Vion and further advance this innovative device.
Vion, the easy-to-use modern multimeter, conveniently connects to a smartphone application to allow for easy and safe measurement of products. With Vion, users can easily measure voltage and resistance and visualize measurement data, allowing for widespread usability by both the general public and experts. Vion automatically saves measured values ​​by date/time and facilitates management of a large number of measurements, relieving the trouble of re-measuring items. In addition, when a user's smartphone is in his or her pocket, measurement results are delivered through voice guidance which is supported by multilingual support. Vion's distinct functionalities make fixing electrical appliances quick, safe, and simple.
A pair of probed Vion meters provides users the convenience for easy storage and carry, perfectly sized to fit in pockets, tool boxes, and drawers without taking up too much space. Vion is Bluetooth compatible and comes with a user-friendly smartphone application that enhances the process of diagnosing electrical problems. The application features voice guidance and connects to a store for direct purchase of measured products. Vion has a battery life of up to 7 hours with a charging period of 30 minutes and can be charged with a USB cable. The measurement status is displayed by the colors blue for AC, red for DC, green for resistance, white for charging, and RGB strobe for standby.
Vion's features include:
-Bluetooth/Application: Smartphone connectivity to measure products and store data
-Automatic Detection: Accurate display of status of measured product and storage
-Complete Manual: Comprehensive guide on the measured products for detailed diagnosis
-Voice Guidance: Supported by English, Spanish, French, and Japanese with Chinese/Korean in progress
-One-Stop Store: Purchase electrical products from a store directly from the app
Pre-order of Vion will be available through the product's Kickstarter page, and it is a consumer-ready product with positive reviews. During the campaign, Vion can be purchased for $40 USD as the Super Early Bird price, $45 USD as the Early Bird price and $50 as the Regular price. When the campaign funding goal is achieved, the company anticipates manufacturing and delivery to be complete in June of 2018.
About Allectrics, Inc.
Allectrics, Inc. is a California-based company developing premium user-friendly products dedicated to providing simplicity to the everyday individual. The products are designed and developed in Newport Beach, California and are manufactured in Seoul, Korea. Allectrics, Inc. was founded by a team of experts and engineers determined to produce innovative modern devices. More information can be found at their website: https://www.vionmeter.io.