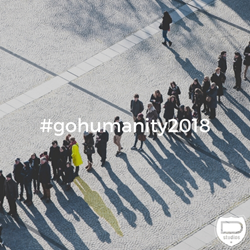 You don't need to 'go big' to make a difference, small is just as powerful,"
SAN FRANCISCO (PRWEB) March 14, 2018
Designing North Studios, a digital design house practicing user-centered design principles, known for their personal, detailed approach to crafting solutions for all kinds of digital projects, has launched a campaign celebrating the mindset that focusing on the small details can and does uplift humanity and may be effective in closing the divide many seem to feel at this moment in time.
For too many reasons, 2017 was a hard year on people, but in the end, humanity fought back: women marched, sports figures knelt, companies halted advertising, while others produced messages of hope and solidarity, some even ousted CEOs. People gave big, people gave small, people made their voices heard louder than ever and set the tone for 2018.
Feeling the shift from consciousness to action, Designing North Studios is introducing a year-long campaign titled #gohumanity2018, encouraging everyone to share good deeds, show perseverance, positivity, and thoughtfulness in the face of challenge, forgo the urge to respond to name calling or political confrontation, and do that little bit of 'extra' for all tasks, be them personal or professional, in the belief that they will literally 'feel' better.
Taking numerous forms on Instagram, LinkedIn, Twitter and Medium, the campaign supports an important notion identified in the studio's mindset: 'small' doesn't receive the respect it deserves, and everyone has a little something extra to add to society, individually and collectively. As an inclusive campaign for discovery and collaboration, #gohumanity2018 encourages the sharing of visuals, conversations, articles and videos that move the soul, however small the act, as a reminder that everyone is in this together; everyone can and does contribute to humanity; everyone's addition of small details builds one powerful feeling. Over the next twelve months, Designing North Studios will use #gohumanity2018 to bring awareness to our fundamental desire to connect with one another, and humanity at large, through shared experiences illustrating the power of small things. It's a chance for ordinary people to see 'small' as absolutely meaningful to our big humanity picture without concern for being 'extraordinary' as the only way to affect change.
"They say that living a purposeful existence, where you stand for something, embrace empathy, and spend more time giving, however small, physiologically makes you 'feel better.' So, you don't need to 'go big' to make a difference, small is just as powerful," says Lisa Peacock, Designing North Studios Executive Creative Director. "Small doesn't even need to be recognizable to make an impact. That is its beauty. But if we take a moment to highlight all the small deeds being done across the humanity spectrum, therein lies its collective power."
The events of 2017 have positioned 2018 to be a year for recovery, growth, and even healing: humanitarian crises in Syria, Yemen, Somalia, Sudan, Nigeria; North Korean missile testing over and over and over; ransomware, cyber attacks, fake news; the Ariana Grande bombing; the Paris attacks; Hurricanes Harvey, Irma, Maria; earthquakes in Mexico, Iran; the Las Vegas Shooting, the Texas Church Shooting; wildfires scorching California from the North to the South; #MeToo; repeal of the Endangered Species Act; net neutrality; Times Up. Humanity is ready. Not only ready, but is already equipped with humans doing. Doing the small. And it's time to take a look at that collective effort. So we can all 'feel better.'
We have an inherent desire to believe, as humans, that we are unified on many fronts. Oprah touched on this notion so poignantly in her unforgettable 2017 Golden Globes speech:
"...say something about how men and women really behave. To say how we experience shame, how we love and how we rage, how we fail, how we retreat, persevere and how we overcome. I've interviewed and portrayed people who've withstood some of the ugliest things life can throw at you, but the one quality all of them seem to share is an ability to maintain hope for a brighter morning, even during our darkest nights."
People everywhere are making a difference with small. Knowing those small details can get us all back to 'feeling better' after a challenging year. Feeling ready. Feeling humanity. #gohumanity2018
LinkedIn | Twitter | Instagram | Medium
Designing North Studios is a small creative team that believes in the small details, *designing north* of what's expected. They add that extra bit of special effort - a small hover above 100% - just north of good work. They celebrate small in everything because it often doesn't get the respect it deserves. They take the time to handcraft experiences, know each customer personally, and care deeply about the details. The studio believes that everyone is designing north in some area of their life; in career, home, humility or humanity. So they help clients tap into that extra bit of passion, and bring the best of themselves to any project.