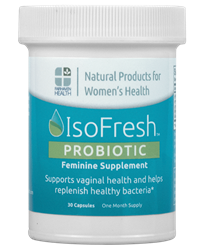 The research about the benefits of oral probiotics for helping the good bacteria thrive and keeping the bad bacteria at bay continues to grow...
BELLINGHAM, Wash. (PRWEB) March 13, 2018
Fairhaven Health, a leader in natural, science-based women's health care products, has launched IsoFresh Probiotic, the newest addition to the company's award-winning IsoLove® brand.
IsoFresh Probiotic is a once daily oral probiotic supplement with five strains of friendly bacteria in a total of 10 billion Colony Forming Units, to support a healthy vaginal ecosystem.
Seventy-five percent of women will get a yeast infection at some point in their lifetime, and an estimated 29 percent of women aged 14 to 49 and 50 percent of African American women have bacterial vaginosis (BV). These infections cause vaginal itching, odor, discharge and irritation. Vaginal health is properly maintained by keeping balance between friendly and unfriendly bacteria. Everyday circumstances like sex, tight pants, gym clothing, stress, douching or even eating too much sugar can interrupt a woman's delicate vaginal balance.
"Maintaining healthy balance between the friendly bacteria and the pathogenic, harmful bacteria in your vagina is a key to preventing vaginal odors, irritation and infections," Dr. Peter Rizk, MD, said. "The research about the benefits of oral probiotics for helping the good bacteria thrive and keeping the bad bacteria at bay continues to grow, and I recommend probiotic supplements to all my patients who are concerned that bacterial imbalance may be negatively impacting their vaginal health. We recommend Fairhaven's IsoFresh vaginal gel to our patients, and the probiotic makes a great companion product."
Benefits of IsoFresh Probiotic

One Capsule per Day Helps Replenish Healthy Bacteria and Balance Yeast
Includes 5 Probiotic Strains, Including Lactobacillius reuteri, Chosen Specifically for Vaginal Health
Manufactured in the USA in a GMP-certified Manufacturing Facility
Made without Gluten or Soy. Suitable for Vegetarians.
Contains 10 Billion Colony Forming Units – 2 Billion Each of Lactobacillus rhamnosus, Lactobacillus reuteri, Lactobacillius acidophilus, Bifidobacterium lactis, Bifidobacterium longum
Each bottle contains a 30-day supply.
Learn more about vaginal health and the benefits of probiotics for preventing yeast infections and BV at http://www.MyIsoLove.com. For more information, please contact erin(at)brilliantprm(dot)com.
About Fairhaven Health
Fairhaven Health is a specialty supplier of natural, doctor-designed products to support fertility enhancement, pregnancy and breastfeeding. Fairhaven offers a broad range of products to help couples conceive, providing natural alternatives to more expensive and invasive infertility treatments. The company's clinically validated fertility supplements and ovulation prediction tools are recommended by OBGYNs and fertility specialists having helped tens of thousands of couples conceive naturally. Once pregnancy is achieved, Fairhaven offers natural, doctor-designed prenatal supplements and the award-winning Milkies nursing products to help new moms meet their breastfeeding goals. The company's newest brand, Isolove, offers a vaginal probiotic supplement made without parabens and isotonic BioGels designed for alleviating vaginal odor, perineal massage, postpartum recovery, and TTC lubricant. For more information, visit http://www.fairhavenhealth.com.