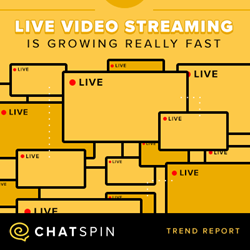 Live video streaming has taken the world by storm and quickly become the number one method of communication
LOS ANGELES (PRWEB) March 20, 2018
Chatspin, a random video streaming app, is exemplifying the rapid growth of live video streaming across the web. Since launching in 2015, the platform has continued along a steady upwards trend to become one of the leading video chat and streaming apps online. Throughout 2017, Chatspin facilitated over a quarter of a billion user connections with between 25,000 and 50,000 people using the platform at any given time. These figures represent a 40% increase on the number of connections and average users online throughout 2016.
Live streaming has become one of the most popular forms of communication with platforms such as Facebook, YouTube, and Twitter adding live streaming to their services over the past few months. According to findings from Research and Markets, online live video streaming has an increased viewership of 60% with the industry on course to be worth over 70 billion US dollars by 2021. Within this industry, one of the fastest growing forms of live streaming is random video chat apps such as Chatspin which allow users to connect randomly face to face with other people from around the world.
"Live video streaming has taken the world by storm and quickly become the number one method of communication", said Chatspin Press Manager, Shay Robin, "We are proud to be at the forefront of this rapid industry growth, leading the way with innovation and user satisfaction".
Chatspin became one of the first multi-platform random video chat apps online last year when a relaunched chat app was released to work across computers, mobile devices, and tablets seamlessly. Innovative features, user-friendliness, cutting-edge technology, and anonymity for all users are among the other reasons for the success of Chatspin in such a short period of time. With huge growth forecasts for live video streaming over the coming years and the explosion of random video chat, Chatspin is set to continue facilitating millions of connections worldwide and leading the way for live video chat.
About Chatspin
Chatspin is a random video chat app which allows people to stream live using their webcam across computers, mobile devices, and tablets. The platform allows users to connect with strangers from around the world using only a webcam and an internet connection. Chatspin facilitates thousands of random connections every day, bringing together millions of people since launching in 2015.