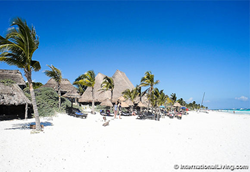 That's luxury for not much more than the bricks-and-mortar price
BALTIMORE (PRWEB) March 13, 2018
"One man's crisis is another man's opportunity," says real estate expert and International Living contributor, Ronan McMahon. "At least, that is the case in two of three beach towns I'm watching closely for 2018, with an eye to potential profits."
The International Living report, authored by McMahon, points first to Placencia, Belize, on the Caribbean and to Los Cabos on Mexico's Pacific coast.
"They are both picturesque, charming, and high-end beach towns within easy access of the United States. And property values there are poised to increase quickly," says McMahon.
According to the report, when the 2008 crisis hit, Placencia, Belize, and Los Cabos, Mexico, both felt it, and the after-effects of that crisis are still creating opportunity for real estate buyers a decade later.
Both Placencia and Los Cabos' real estate markets were heavily reliant on North American buyers. So when North America was in crisis, a stream of regular buyers temporarily dried up.
But there weren't the big fire-sale auctions and heavily discounted deals prevalent in places like Ireland and Spain, which lured buyers looking for bargains. Instead, the markets in Placencia and Los Cabos quietly stalled as developers sat on the sidelines, waiting for them to bounce back.
The effect on Placencia is that it paused its upward trajectory for a short time.
"Placencia has been a slow burner for years, popular with adventurous and well-heeled vacationers who came to snorkel the reef or just chill in the Caribbean atmosphere and sunshine," says McMahon. "It was set to take off in 2008, but went on hold when the crisis in North America hit."
Today, according to the report, it is once again poised to boom.
"There's talk of an international airport opening up," says McMahon. "If it happens, it's the icing on the cake. Even if it doesn't, someday very soon, Placencia is going to be on everyone's lips.
"Those who have gotten in now are set to profit. I'm watching this market closely and flagging exciting deals as they bubble up (including some long-held foreclosures that local banks have been reluctant to let go of)."
More than 2,000 miles away from Placencia, on Mexico's Pacific coast, the 2008 crisis also created opportunity in Los Cabos: the chance to buy luxury at a deep discount.
This is a first in Los Cabos' history and a rare chance to get something high-end with a tiny price tag, according to the report. Pre-crisis, in Los Cabos, developers were building condos and homes with multi-million-dollar price tags. That's the kind of market there is in this Pacific coast destination.
But when buyers dried up, developers got more creative. And that's what's led to this "luxury at a discount" moment in 2018. Today it's possible to find properties in high-end developments listed for closer to $200,000.
"That's luxury for not much more than the bricks-and-mortar price," says McMahon. "I expect the value of one of these condos to hit $450,000 or more in the next five years…and an owner could gross an income of $40,000 a year. But I expect this opportunity to buy Cabo luxury at such low prices will pass very quickly."
The third beach town to watch in 2018, according to the report, is Tulúm on Mexico's Riviera Maya. A Path of Progress is rolling down this coast and Tulúm is firmly in its sights. The population's growing rapidly, as are tourist numbers. But there's only so far the town, with its pretty beaches, can physically grow.
Tulúm is the end of the line for this Path of Progress. Literally. The Caribbean Sea on one side…a huge, protected biosphere reserve on the other and strict planning and permitting rules on land south of Tulúm, means there's only so much development that can happen. And, once Tulúm is maxed out, there's nowhere else for development to go.
"Demand for real estate and vacation rentals in Tulúm is soaring," says McMahon. "This is a place that's already cool—the vacation destination of the hipster and eco-chic sets. And this is the year Tulúm grows up from hip beach town to one of the region's fastest-growing commercial and tourism centers.
"Late in 2017, I recommended condos in Tulúm from $154,500. I expect values will rise during construction by as much as $40,500…and that, with the right marketing, one of these condos could gross up to $35,000 a year.
"I also expect real estate values in Tulúm will rise strongly in the coming years to align more with other Caribbean destinations where values are twice as high.
"Now is the moment to get in."
More information can be found here: 3 Beaches Overseas Poised to Boom in 2018
Editor's Note: Members of the media have permission to republish the article linked above once credit is given to Internationalliving.com
Further information, as well as interviews with expert authors for radio, TV or print, is available on request. Photos are also available.
For information about InternationalLiving.com content republishing, source material or to book an interview with one of our experts, contact PR Managing Editor, Marita Kelly, +001 667 312 3532, mkelly@internationalliving.com
Twitter: @inliving
Facebook: https://www.facebook.com/International.Living/
About International Living
For 37 years, InternationalLiving.com has been the leading authority for anyone looking for global retirement or relocation opportunities. Through its monthly magazine and related e-letters, extensive website, podcasts, online bookstore, and events held around the world, InternationalLiving.com provides information and services to help its readers live better, travel farther, have more fun, save more money, and find better business opportunities when they expand their world beyond their own shores. InternationalLiving.com has more than 200 correspondents traveling the globe, investigating the best opportunities for travel, retirement, real estate, and investment.