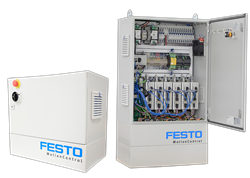 Islandia, NY (PRWEB) March 13, 2018
Festo introduces the Festo Motion Control Package (FMCP), a control system for coordinated motion of up to six axes for pick and place and other high speed, precision Cartesian robotic applications. This prewired and ready-to-install control solution provides the kinematics for H-portal, T-portal, 2D, and 3D Festo standard gantry systems. OEMs quickly configure Cartesian motion applications using function blocks – with no specialized programming knowledge required. FMCP is compatible with all leading control architectures for fast, seamless integration. Manufacturing in America Booth #103.
An end-to-end productivity solution for Cartesian robots. This solution builds on the Festo Handling Guide Online gantry configuration tool.
In 2016, Festo developed the Handling Guide Online configuration tool for designing Cartesian robots. This productivity tool significantly reduced engineering overhead for OEMs. Equipped with basic application information such as load, cycle time, load voltage, and workspace size, a design engineer utilizes the Handling Guide Online tool to specify a single axis, 2D, or 3D Cartesian robot and receives a CAD drawing of the robot in about 20 minutes. Quotes arrive on average within 48 hours. OEMs have the option of ordering a gantry fully assembled or as disassembled modules.
Festo now takes Handling Guide Online several steps further by offering the robotic controller, including the cabinet, components, and wiring, as an enhanced solution. The control cabinet arrives fully wired and ready to be installed. The OEM simply adds power, Ethernet connection, IO, and wiring to the gantry motors. OEMs utilize a function block to fill in key motion parameters. No specialized or manufacturer specific programming knowledge is required. Basic motion can be taught through a webserver or IOS/Android app.
The FMCP is also offers an ideal solution for end-of-arm-tooling. By including an IO-Link connection, the FMCP can control eight external digital inputs and eight digital outputs within the standard function block. This unique solution saves time, money, and space.
In summary, the FMCP provides:

A complete robotic solution: A single part number that includes motion controller and accessories thus saving time and labor
A prewired cabinet: The cabinet is UL508A approved with Category 4 Safe Torque Off (STO/SS1 type C). Signals are prewired to each motor controller with all signals routed through the bottom of the cabinet via heavy duty connectors. This design delivers a clean look and reliable performance.
Pre-configured motor controllers: Each axis comes with the axis configurations, motor parameters, IP address, and more. Pre-configuration leads to fast and easy integration with the OEM's machine.
Powerful robotic control: FMCP is capable of multi-axis control, interpolated motion, and fieldbus integration with standardized function blocks. This saves significant programming effort. The controller can act as the single connection to higher-level systems, significantly lowering the number of IP addresses in the IT infrastructure.
OEMs are encouraged to test drive the Handling Guide Online to discover the productivity benefits and ease of use for themselves. For more information about the new Festo Motion Control Package, call 800-993-3786 and/or visit https://www.festo.us for the company's world leading motion solutions.
###
About Festo
Festo is a leading manufacturer of pneumatic and electromechanical systems, components, and controls for process and industrial automation. For more than 40 years, Festo Corporation has continuously elevated the state of manufacturing with innovations and optimized motion control solutions that deliver higher performing, more profitable automated manufacturing and processing equipment.
Connect with Festo: Facebook, LinkedIn, Twitter and YouTube