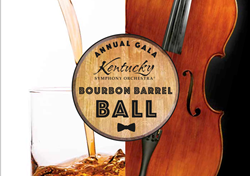 "When throwing a party, you want to catch a theme/cause that resonates with your community." — KSO founder James Cassidy
NEWPORT, Ky. (PRWEB) March 13, 2018
Linking Kentucky spirits with tasty musical programming becomes an annual event, as the Kentucky Symphony Orchestra makes a splash with its First Annual Bourbon Barrel Ball—
6:30 p.m. Saturday, April 21st. As the official gateway to The Kentucky Bourbon Trail, Northern Kentucky's own Symphony hopes to make its "Ball" a recurring Spring fling. This new party with a purpose marks the orchestra's 24th fundraiser, supporting its annual free education and park concerts. The inaugural event will be held at the former IMAX Theater at Newport on the Levee (in what we hope will become Northern Kentucky's own Center for Media, Arts and Entertainment).
The evening opens with a cocktail hour, including delicious bourbon tastings provided by The Party Source, a silent auction and optional tours of the venue with renovation plans and renderings. A scrumptious dinner by BRIO follows including wine and dessert. A variety of entertainment on all levels is provided by the KSO's Devou Doo Daddies Swing band, the Floodwall Jazz Quartet, a new SouthBank Mariachi Band, plus Jimmy Lee Hook's Billy Joel & Elton John tribute. Dancing, music and fun continue till the last pour.
The KSO's founder and music director James Cassidy commented, "When throwing a party, you want to catch a theme/cause that resonates with your community. Bourbon is synonymous with Kentucky and the Bourbon Trail. The KSO's penchant for nostalgic and fun music makes a Bourbon Barrel Ball theme fit like a glove."
Live, silent and on-line auctions feature destinations, sports and entertainment tickets, dining options and much more. The evening's three raffle drawings include two rare, five-bottle collections of Pappy Van Winkle (10, 12, 15, 20, 23 year), aBourbon nd Buffalo Trace Antique Collection and a $500 Macy's gift card.
Proceeds from the event keep the music playing across the region. The KSO has performed free education concerts for 227 individual regional schools and 135,060 students. Additionally free annual KSO summer concerts in Covington's Devou Park have brought nearly 375,000 area residents to the iconic concert bowl over the last 23 years. While both series of programs are supported by foundations and generous corporations, these gifts don't cover all costs to produce these 8 free performances. The "Ball" provides much needed support for all of these engaging outreach efforts.
Can't attend? Support the KSO's outreach programs by buying raffle tickets or bidding on auction items on-line. Beginning on April 11th, patrons may preview and bid on auction items on-line. Bidders have the opportunity to place absentee bids if they can not attend on April 21st. (tickets available on-line; winner need not be present to win).
Call the KSO today and make your reservations (deadline — 4/16) for the KSO's Bourbon Barrel Ball: (859) 431-6216 or visit kyso.org/gala The full evening with reserved seating, cocktails, bourbon tasting, dinner, wine, dessert, dancing / live entertainment is $125 per person ($50 is tax-deductible). Proceeds from the event help fund eight free educational and park concerts in 2018.